Hvac Social Media Marketing for Hvac Businesses
Every business in a rapidly growing industry will have to tap into modern technologies and devise means to stay ahead of their competitors. Recent statistics show that the HVAC industry has grown significantly in the past few years, reaching a market value of $13.8 billion, with revenue growth of up to 3.9% expected between 2020 and 2030.
Hvac social media strategies play a significant role in how you utilize your HVAC marketing plans to expand your business and attract potential customers.
However, understanding the intricacies of social media marketing for your HVAC business can be a challenging endeavor. In this article, you will find helpful Hvac social media tips to navigate the social media landscape and grow your business.
__________Start of an Ad
What makes "Hvac Marketing Xperts" the best marketing company for Hvac businesses?

We Guarantee Minimum 300k In New Customer Revenue – Or You Don't Pay

Contact us to get more customers for your HVAC company. 

___________End of an Ad
What is HVAC Social Media Marketing?
HVAC social media marketing involves using platforms like Facebook, LinkedIn, Instagram, and Twitter to promote your heating, ventilation, and air conditioning services to the right people at the right time. It reaches a broad range of potential customers and addresses the need for customer engagement and brand awareness.
Social Media for Hvac Businesses: Best Social Marketing Strategies to Take Your Company to the Next Level
Social media marketing is an indispensable tool to take your HVAC business to the next level. The key is understanding your customers' needs and how they seek to fulfill them, then customizing your marketing efforts to reach them effectively.
Additionally, social media marketing helps you build relationships and business credibility. It also connects you with other HVAC businesses to learn from them. If you're ready to take your HVAC business to the next level, here are the best Hvac social media marketing strategies you should consider:
Set Your HVAC Social Media Marketing Goal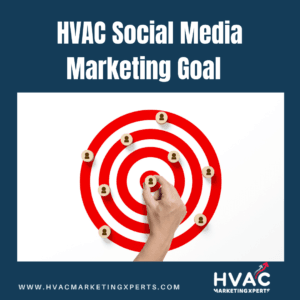 Setting social media marketing goals is crucial to measuring progress. Your social media marketing goals should include weekly, monthly, quarterly, and annual SMART (specific, measurable, attainable, realistic, and time-bound) goals.
The beginning of the year is a good time to create your long-term and short-term marketing goals that you can work towards all year. It is also essential to set regular check-in points throughout the year to keep you on track and reveal your most effective strategies. Doing this will allow you to ascertain what is working and what is not and how you can adjust your efforts to achieve success.
Create a Social Media Content Strategy and Calendar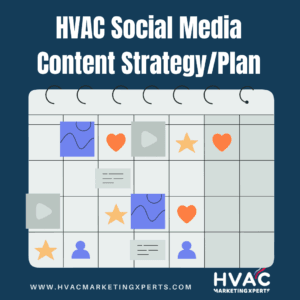 Creating quality content through different mediums, including blogs, articles, and videos, is vital for the success of your social media marketing. Planning your content in advance and scheduling posting time will increase your organization and help you churn out quality content that speaks to your customers' needs.
Determine the Best Postings Times for the Social Media Platforms You Choose
You will have to determine the best time to post your content on each of the social media platforms you choose to ensure high visibility and encourage maximum engagement in the forms of likes, comments, and shares.
Since various social media platforms have different users, the ideal time to publish your content on one platform might not be the best time to post on another. On Facebook, for instance, users are more active on weekdays, whereas Instagram users are more active on weekends.
Furthermore, specific platforms tend to be more popular at different times of the day. For example, people are more likely to use Twitter in the morning and LinkedIn in the evening. Ultimately, it's helpful to experiment with various platforms to determine the best time for making your posts.
Identify the Best Social Media Platforms for Your HVAC Business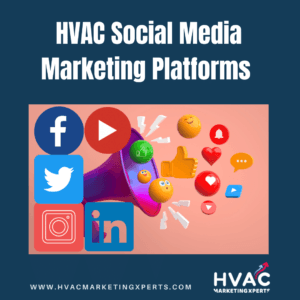 There are many social media platforms you can use for marketing your HVAC business, including Facebook, Instagram, YouTube, TikTok, and LinkedIn. But, instead of spreading yourself thin and getting minimal results, you can concentrate on the few platforms that are right for your business for optimal results.
Start by identifying the platforms your competitors use. This will give you an idea of where your targets are and how to reach them. Many HVAC businesses utilize Facebook business pages as their first line of social media marketing. Facebook pages provide your business contact information and serve as a support hub for current customers. On the other hand, it offers accessible and searchable directory listings for potential customers.
Create Helpful and Relevant Posts on Your Social Media Accounts
The key to capturing and holding your customers' interest and attracting new customers is regularly creating relevant and value-packed content. Many HVAC businesses make the common mistake of channeling their content toward making sales without adding value.
Also, posting content that does not include sales propositions. You'll have to strike a balance between creating content that is sales and value-driven. Your posts should include a call to action, such as making an appointment or contacting your business for further details.
Examples of relevant posts to make include:
HVAC maintenance tips.
Before and after pictures of your best work.
Anywhere you're featured (news, websites, awards).
Great reviews or testimonials.
Deals and exclusive offers.
Introduce new HVAC employees as well as anniversaries or employee achievements.
Leverage Social Media Ads for Your Hvac Company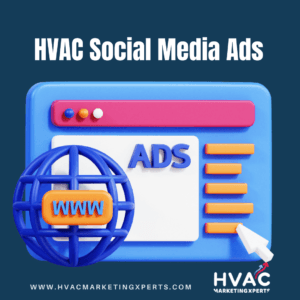 Leverage paid social media ads to increase the reach of your organic posts. While organic posts encourage leads interested in converting and assist you in building relationships with your current customers, paid ads increase website traffic and generate new leads. Social media ads, like those on Facebook and Twitter, can be tailored to particular demographics and are excellent for targeting potential customers who could be interested in your services.
Install tracking pixels on your site to retarget your visitors and customers. You can monitor who visits your website and display relevant ads as they surf the web by adding a little piece of code to your page. This is a fantastic method to boost sales and keep your brand in front of customers.
Run retargeting ads. Retargeting is an excellent strategy for maintaining brand awareness among prospective customers after they have visited your website. You can create custom audiences of people who have visited your website and then serve them targeted ads as they browse the web.
 Extra tip: If you want to boost social media marketing for your HVAC business, hiring a social media advertising professional may prove useful. This professional can help you save time and money by creating and selecting ads that have a higher conversion rate. Get in touch with us for Hvac social media marketing services.
Leverage Short Videos
A short one- to three-minute video is an effective way to promote your HVAC business and turn potential customers into paying customers. Potential customers are 35% more likely to convert into paying customers when they see a video than when they see images. You can post your short videos on:
Your HVAC business website
Facebook (organic, ads)
Instagram (IGTV, ads)
TikTok
YouTube
Here are some interesting HVAC video concepts you should consider for your HVAC business:
An overview of your company, including its mission, offerings, background, and ideal customer.
Basic HVAC tips.
Quick advertisements.
Customer reviews.
Recommended: Hvac advertising examples
Use Live Streams to Announce News, Products and Services
Using social media to livestream is an innovative strategy that allows your followers to follow you in real-time. You can make the most of your live stream by showcasing products your company has finished and announcing new services and happenings in your HVAC company.
Be creative. It's much fun to stream live, so feel free to be inventive. Consider how you may draw potential customers into your stream and keep them interested.
Utilize hashtags to Connect to Other Prospective Customers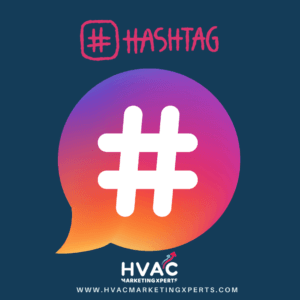 Relevant hashtags increase your post's visibility by helping potential customers find you and keep track of your HVAC company's related posts and campaigns.
As a basic guideline, look at the most popular hashtags for HVAC services in your area and research the hashtags that your competitors are using. Effective hashtags are easy to come by. Many social media platforms allow you to find relevant tags when you search for hashtags. Remember that for your customers to find you, your hashtags must be targeted and not too general.
Respond to Direct Messages as Fast as You Can to Stand a Chance of Converting Leads
Leads and customers frequently send you direct messages with inquiries about your offerings, which is a good chance you have to convert them into customers.
Delaying responses will facilitate losing them to your competitors. You can utilize chatbots to automatically respond to messages during off-peak hours to streamline this process and keep up with prompt responses. Many social media platforms allow you to customize your office hours.
This way, you can automatically reply to them when you're closed for the weekend so that someone will contact them during business hours. Remember to provide a call-to-action in your response that outlines the next action you would like them to take (e.g., phone to book an estimate or service visit, fill out a form).
Leverage the Right Social Media Tools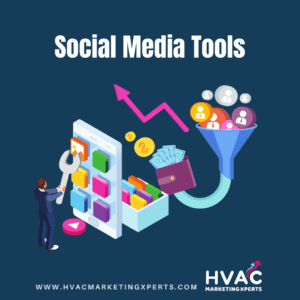 Analytics tools give you insights into your audience's behavior and interests. Leveraging the right tools enables you to uncover effective strategies and realistic goals.
It also allows you to highlight strategies that are effective and need to be actively implemented. Additionally, you can monitor your competitors to find out what works and what doesn't for them. If you discover something is effective for them, you can figure out how to use and enhance that strategy.
Follow Trends Happening in the Hvac Industry and Social Media Marketing Trends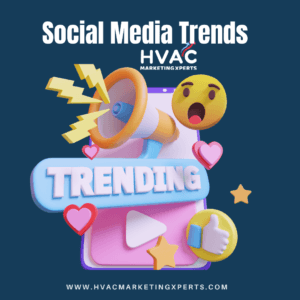 Stay abreast of social media marketing trends and optimize your marketing strategies to align with the trends in your industry. As social media trends evolve and new features emerge, you should adjust your strategy accordingly and plan to accommodate these changes. To get started, use social media newsletters, including HubSpot, Buffer, Hootsuite, Sociality.io, Sprout Social, and Social Media Examiner.
Recommended: Hvac Search Engine Optimization Tips
Hire a Social Media Marketing Agency to Outsource these Tasks to Grow Your Hvac Company
Hiring a social media marketing company might be a fantastic method to delegate these responsibilities, expand your HVAC business, and save tons of time in the process.
Outsourcing your HVAC social media marketing strategies allows you to concentrate on other important aspects of your business. You can target your audience, schedule and publish engaging content, and grow your following with the aid of an Hvac marketing agency.
Summary: Social Media Marketing for Hvac Companies
Maintaining an active social media presence is essential if you're looking to promote your HVAC business and attract new customers. The ever-evolving social media landscape demands that you adopt creative social media marketing strategies for your HVAC business.
You can utilize social media platforms like Facebook, Instagram, YouTube, TikTok, and LinkedIn for your HVAC company to reach a larger audience, share valuable content, and highlight your expertise and services.
You can also nurture your relationship with your existing customers and convert new leads. Staying up to date on the latest trends is essential to keeping a competitive advantage.
How do I market my HVAC company on social media?
You can market your HVAC company on various social media platforms by utilizing compelling social media post ideas, including sharing short videos, fun facts, infographics, customer reviews, employee gratitude posts, memes, and your company's events and milestones.
How do I get new customers for my HVAC?
You can get new customers for your HVAC business by hosting contests and giveaways and using targeted ads.
Which social media platform is best to market my HVAC business?
The best social media sites for HVAC company marketing ideas include LinkedIn, Facebook, Instagram, YouTube, TikTok, and Facebook.
What is the best platform for HVAC social media marketing?
Given the professional nature of the HVAC industry, LinkedIn is often cited as the best platform for HVAC businesses to establish a social media presence. However, other platforms like Facebook and Instagram also have their advantages, depending on your target audience and marketing strategy.
How to improve my HVAC marketing using social media strategy?
Utilizing social media platforms effectively is one of the best ways to improve your HVAC marketing strategy. Engaging with your audience, using social media analytic tools to understand and cater to your audience's HVAC needs.
For best outcome, we recommend hiring an Hvac digital marketing company.  You can also read our dedicated on hvac digital marketing to learn ways to improve your hvac marketing strategies.
What is the importance of an HVAC social media post and how often should I post?
A well-crafted HVAC social media post is a great tool to attract traffic to your website, show your expertise, and engage with your audience. It's recommended to post at least once daily to maintain an active social media presence and keep engaging your audience.
What are the social media trends and features I should adopt for my HVAC marketing?
Some of the emerging social media trends and features that can benefit your HVAC marketing include the use of Stories on platforms like Facebook and Instagram, interactive content like polls or live videos, and adopting a mobile-first approach. It's always crucial to stay updated on these trends and adapt your content marketing strategy accordingly.
What is the significance of establishing a social media presence for my HVAC business?
Establishing a strong social media presence enables you to reach and engage a broad audience of potential customers. It humanizes your HVAC business and allows you to demonstrate your expertise and provide value through your posts. It can also significantly boost your social traffic, leading to increased business opportunities.
How can I show off my HVAC business using social media?
Showcasing your HVAC work on social media platforms is a great way to attract potential clients. Posts can include before and after photos of your work, client testimonials, or educational content explaining different HVAC systems and services. Remember to use high-quality photos and engaging descriptions.
Can social media strategy help grow my HVAC business?
Absolutely, a robust social media strategy can significantly help grow your HVAC business. Using social media allows you to reach potential customers, engage with them, and build strong relationships. It also enhances your brand reputation and visibility, potentially increasing leads and sales.
What type of content works best for HVAC marketing on social platforms?
Content that provides value to your audience works best on social platforms. This can be helpful tips for maintaining an HVAC system, explaining how different systems work, or sharing the latest trends in the HVAC industry. Engaging and interactive content, such as polls or customer testimonials, also tend to perform well.
How can I boost my social media engagement with HVAC contractors?
A: Boosting your social media engagement can be done by posting valuable content relevant to HVAC contractors, responding to comments and messages promptly, or using interactive content like quizzes, polls, or live Q&A sessions to engage them. Creating a community where contractors can share their experiences and ask questions can also be beneficial.
How can social media help meet HVAC needs of potential clients?
A: Social media can help you meet the HVAC needs of your clients by providing them a platform to communicate with you directly, ask questions, and get assistance. Posting educational content about HVAC systems and maintenance tips can also be helpful. Moreover, by observing your clients' interactions and feedback on your posts, you can understand their needs better and fine-tune your services accordingly.