HVAC Contractor Marketing Strategies to Increase Your Customer Base
Every HVAC company wants to increase its leads, boost revenue, and ultimately grow its business. But having a successful HVAC company does not happen overnight. It requires carefully curated and executed marketing efforts to catapult your company into the limelight.  
Marketing for HVAC companies may seem humongous when you're not getting a satisfactory return on investment. The problem may be that you're not implementing the right marketing strategies for Hvac contractors. 
If you're reading this, you're ready to learn the ropes and grow your HVAC company with the best Hvac digital marketing strategies. 
We have compiled the top 12 HVAC marketing strategies that are proven to get you more clients and increase your revenue.
__________Start of an Ad
What makes "Hvac Marketing Xperts" the best marketing company for Hvac businesses?

We Guarantee Minimum 300k In New Customer Revenue – Or You Don't Pay

Contact us to get more customers for your HVAC company. 

___________End of an Ad
What is HVAC Marketing?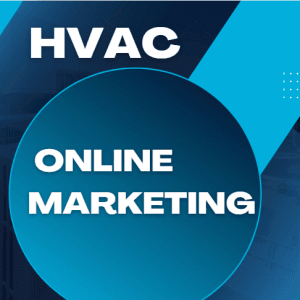 HVAC marketing and Hvac advertising is a branch of digital marketing that deals with advertising and promoting your heating, ventilation, and air conditioning services. It involves reaching your target audience with your company's offerings and value proposition through different promotional means spanning digital and internet marketing strategies.
What are the Most Effective Marketing Strategies for HVAC Companies?
You can employ various marketing strategies to promote your HVAC company, including SEO, video and content marketing, paid advertising, and search engine marketing.
The following Hvac marketing strategies for HVAC companies will help you boost your company visibility, attract more clients, and increase your revenue.
Design a Website for Your HVAC Business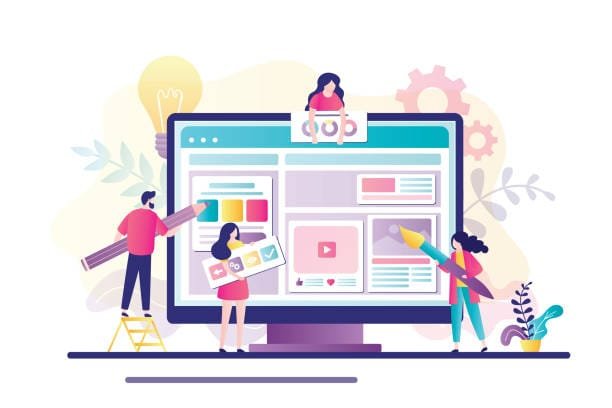 Your Hvac marketing plan should include Hvac site development because designing a website for your HVAC business is essential to be visible to potential clients and keep in touch with current customers. Your website should provide prospective clients with information about your services, explain why they should pick your business, and allow them to contact and request your services.
A functional website should highlight pertinent details about your business, including your HVAC company's name, catchphrase, and logo; your service area and contact details (phone number, email address); the types of services your HVAC company offers; and images of your HVAC company at work.
Many consumers who search for "HVAC near me" typically use a mobile device. Ensure your website is fully optimized for clients and potential customers using mobile phones.
Mobile-friendly websites can be accessed effectively on any mobile device, such as a smartphone or tablet. It shows your website has a response design and dynamic serving. And websites with a responsive design score higher in Google searches.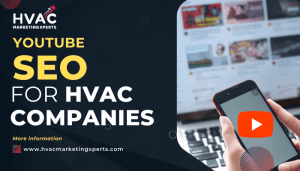 Many consumers use the internet to find local businesses. By leveraging search engine optimization (SEO), you're well on your way to increasing your website visibility and generating organic traffic. SEO involves applying specific tweaks to your website's interface and content to increase its search engine ranking whenever consumers look for HVAC services.
When implementing an SEO strategy, think about what consumers in your local market need and how they're making their searches online. Considering these factors will help you phrase and use the right keywords that will enable them to locate you on the first page of Google's organic search results.
For instance, if your HVAC company is located in Los Angeles, ensure that one of your primary keywords is "Los Angeles A/C repair, or HVAC services in Los Angeles." To increase your website's SEO health, strategically place keyword variations on landing pages, content blogs, headlines, subheads, meta tags, and meta descriptions.
It's very crucial that you have a Google Business Profile for your Hvac business to attract customers from search results and Google Maps.
HVAC PPC or Search Engine Marketing
Since your customers use search engines to find HVAC businesses, you implement Hvac advertising strategies to reach more potential customers (to gain inspiration, please read our article on Hvac advertising ideas). Search engine marketing, like PPC, functions on a pay-per-click basis.
Unlike the organic search engine optimization method discussed above, PPC or pay-per-click is an inorganic way of increasing website traffic whereby a set amount is paid to Google or any other advertising platform you're using each time a viewer clicks on your Ad.
With pay-per-click advertising, you can bid on the keywords you want to target and compete with other HVAC businesses for the top spot in Google's search results.
Google ranks the ads according to their optimization level and the degree to which the search term is pertinent to both the landing page and the ad copy. Ensure you use local and HVAC-specific keywords in your Ads so that people searching for these terms will see your Ads.
Content Marketing for HVAC
Content marketing is one of the best Hvac marketing idea to put your HVAC business out there and attract more customers. You can use different types of content marketing to improve your company's visibility and close business deals, including blog posts, videos, infographics, and social media posts.
Content marketing will enable you to rank well in search engines, engage readers, and convert potential leads into paying clients. Creating blog posts and other relevant content will demonstrate your expertise and experience to potential customers and stand you out as an authority in the HVAC industry.
You can create content around air conditioning maintenance and repair services, furnace-related services, or new HVAC system installation. As people read—and occasionally share—your content, this can be a functional way to increase your brand recognition and highlight other advantages of using the services of your HVAC company.
Leverage Video Marketing to Promote Your HVAC Company
Video marketing is a proven Hvac marketing strategy to gaining visibility and increasing conversion rates. Potential customers want to see practical examples of how your HVAC company can meet their needs. You'll never go wrong by sharing educational videos and other content showing how you carry out your HVAC services.
Examples of videos you can share include service videos and brand stories detailing your brand's core values, goals, and how you have evolved. You can also share testimonial videos; this will establish your company's credibility and give your viewers more confidence in trusting your team to care for all their HVAC-related needs.
The key to successfully integrating video marketing into your overall digital marketing strategy is figuring out what types and formats of video content appeal to consumers in your industry and are the most relevant, helpful, and captivating.
Optimize Your HVAC Company's Online Reputation
By optimizing your HVAC company's online reputation, you increase your company's credibility and value. One way to do this is by leveraging customers' reviews. The more people talk positively about your HVAC company, the more visible you become to potential customers.
Managing your online reputation is an effective Hvac marketing strategy to convert traffic and ramp up conversion rates. Additionally, businesses with a good reputation are favored by search engines and frequently appear higher on Google Maps. Increasing the number of positive reviews is a key component of reputation building.
Optimizing your HVAC company's reputation will include:
Google My Business optimization,
Effective social media management and
Ensuring positive search results for your brand name.
Building and maintaining your company's online reputation is one of the best Hvac marketing strategies because it ensures you retain existing customers, get referrals from free positive PR and win in your industry. 
Use Paid Social Media Reach Potential HVAC Customers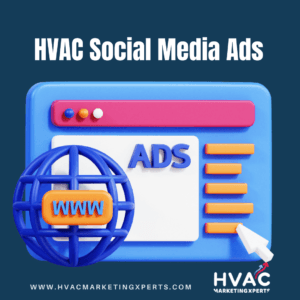 Social media advertising is a powerful Hvac marketing strategy to grow your company and get more Hvac clients. Social media users spend about 15 percent of their waking hours on a social media platform. Hence, you should be utilizing paid social media to reach potential customers.
While posting content on your HVAC company's social media pages may attract some attention, running paid social advertisements on these platforms moves potential customers closer to becoming paying customers.
When running Ads on social media platforms for your HVAC company, some channels may be more effective for you than others. Before deciding which social media platform is best for you, start by identifying your ideal potential audience and aligning your Ads to meet their needs and provide the most value.
Social Media Marketing for HVAC Companies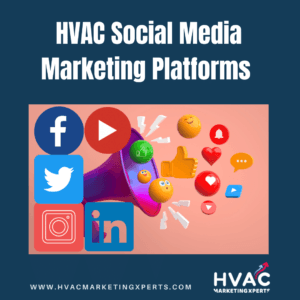 Social media marketing platforms can enable you to target people looking for HVAC services in your area. Start posting original content on your social media platforms to retain your followers' interest. Regularly posting content on social media demonstrates to prospective followers that you are present and eager to engage with them.
Create a social media calendar to plan your content delivery. Ensure you're posting content relevant to your followers and have a great propensity of converting them into paying customers.
You can implement the following social media content ideas:
Before and after videos showing HVAC repairs.
Videos displaying ongoing projects.
Air conditioning maintenance tips.
Interesting articles about modern technology and HVAC trends.
Customer endorsements and reviews.
Company philanthropy.
Special offers or campaigns that you're running.
Funny videos or memes about HVAC systems.

Track and Tweak Your Digital Marketing Performance
Regardless of your Hvac digital marketing strategy for your HVAC business, it's important to track and evaluate your Hvac marketing results and make necessary adjustments.
You can effectively track and tweak your digital marketing performance by thoroughly analyzing your marketing data and accurately evaluating which investments and strategies are the most successful.
To determine which marketing campaign strategies are most effective for your HVAC company, make a marketing scorecard of all current campaigns, then link each new customer to the campaign that introduced them to you. Increase your budget for campaigns that yield better results and reduce spending for campaigns that don't work well.
Leverage Automation to Make Your HVAC Digital Marketing Strategies More Effective
Digital marketing for HVAC businesses can be much work. Automating some of your marketing efforts can ease up the process and free up time for you to focus on other aspects of your business. You can leverage several automation tools to boost the effectiveness of your HVAC marketing strategies.
One benefit of automated marketing is that it multiplies your marketing efforts without requiring human labor. Re-engaging leads can be achieved by setting up an automated or retargeting email campaign. Automated social media marketing can increase your visibility by posting content at specific times of the day.
Use automation marketing to strategically take your potential customers through the buyer's journey, with you leading the way until your team is ready to make the service call and close the sale.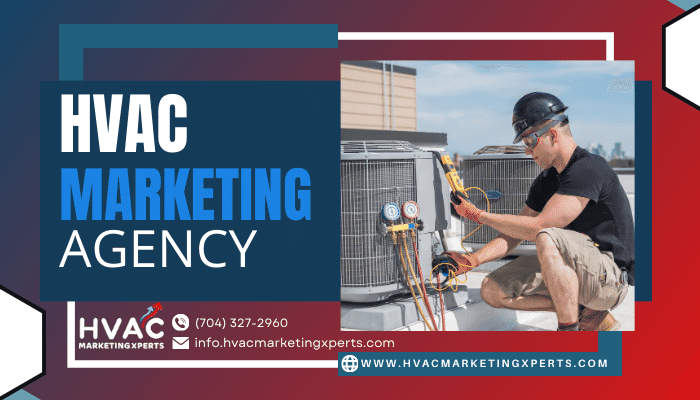 HVAC companies outsource their marketing strategies 90% of the time because it's more efficient and lets them focus on other aspects of their business.
Since HVAC marketing requires a certain set of skills, experience, resources, and time—all of which your HVAC company might not have—outsourcing your marketing strategies to a marketing agency saves you the stress associated with HVAC marketing.
You're sure to generate more leads and close more sales when you work with a marketing agency with a wealth of experience that specializes in high-performance HVAC marketing campaigns.
Recommended: Hvac Search Engine Optimization 
Summary: Marketing Strategies that Work HVAC Contractors
There are overwhelming marketing ideas for Hvac companies to choose, but the good news is that you can start right where you are. Once you've identified your customer's needs and wants, you can select the right marketing strategies to reach your target market.
HVAC marketing encompasses a variety of strategies, outlined in this article, that can enhance your Hvac business growth. Take it one marketing strategy at a time and see what suits your company the best.
You can adapt and modify your marketing strategy as your company grows and your objectives shift. You'll be well-positioned for success once you understand how to regularly secure HVAC leads and close sales.
Hvac Client Testimonials:
Customers above trust and recommend us because we get them leads clients and increase their revenue through our effective Hvac digital marketing strategies. 
Want to get the same result?
Get in touch with us for a free digital marketing consultation today for you Hvac company.
What is a comprehensive HVAC marketing plan and why do I need one to grow my business?
A comprehensive HVAC marketing plan is a strategic roadmap for expanding your customer reach. It should include a combination of online marketing, email marketing, HVAC SEO (search engine optimization), hvac website design, and more. This plan is essential in helping to increase your customer base, as it targets potential customers who need HVAC services, and aims to turn them into loyal clients.
How can email marketing help my HVAC service grow?
Email marketing is a great way to communicate directly with both potential and existing customers. Regular newsletters, updates, and special offers can keep your HVAC company in customers' minds and encourage repeat business. HVAC email marketing should be an integral part of your HVAC marketing plan, as it can help you generate leads and grow your business.
How can having a well-designed HVAC website attract new customers?
Your HVAC website is often the first place potential customers search for HVAC services. A professionally designed website which is easy to navigate can create a positive first impression. It showcases your HVAC service quality and professionalism, encourages potential customers to explore further, and ultimately prompts them to book your service.
Why is HVAC SEO important for my business?
HVAC SEO (Search Engine Optimization) helps your business rank higher in search engine results when potential customers search for HVAC services online.
For example, if you're an HVAC company in Chicago, proper SEO strategies will help your website show up prominently when someone searches for "HVAC services in Chicago." This increased visibility translates into more clicks, leads, and customers.
Why should I use Google Business Profile as a part of my HVAC contractor marketing strategy?
Google Business Profile is a powerful tool that allows local HVAC businesses to manage their online presence. By optimizing your Google Business Profile, you can appear in local search results, making it easier for customers in your area who need HVAC services to find and contact you. It's an effective way to generate leads and increase your client base.
How can I use HVAC direct mail marketing to attract new customers?
HVAC direct mail marketing involves sending physical marketing strategies to generate interest in your services. This could include sending special offers, discounts, or information about your services directly to potential customers' homes. While more traditional than digital methods, direct mail can still be a highly effective part of your HVAC marketing strategy.
Why is it important to have a specific HVAC marketing budget?
A defined HVAC marketing budget ensures that you allocate sufficient resource to promote your HVAC services while maintaining profitability. It helps you better plan and execute your marketing strategies without overspending or seeking for funding. Also, by tracking the return on each marketing dollar, you can adjust the budget effectively to maximize ROI.
What are some proven HVAC marketing tips that I can use to reach more potential customers?
We recommend having a well-designed, SEO-optimized HVAC website, and a robust online presence via Google Business Profile and social media.
Employ targeted email marketing and direct mail campaigns and consider contacting a marketing expert to help implement effective HVAC marketing strategies or to create a comprehensive HVAC marketing plan for your business.
How can I generate more HVAC leads to turn into customers?
Implementing tailored marketing strategies will help generate more leads. The quality of your HVAC website design, effective SEO, strategic email marketing, engaging social media posts, and proper usage of Google Business Profile can all increase your visibility to potential customers who need HVAC services. Additionally, always remember to follow up on generated leads to convert them into customers.
How can HVAC advertising help to increase my customer base?
HVAC advertising can raise awareness, increase the visibility of your services to potential customers, generate leads, and ultimately convert them into new customers. By outsourcing the right Hvac marketing agency, increasing your customer base is a no-brainer.