HVAC Social Media Post Ideas that for Hvac Companies
Many HVAC businesses are now using social media to promote their businesses and gain new customers. Because of this, the competition to get your HVAC business out on social media and be distinguished from other HVAC businesses is on the rise.
 "What are the best Hvac Post Ideas I can publish on my HVAC social media page?" is the burning question in the minds of many HVAC business owners.
In this article, you'll learn 12 social media post ideas that will fetch your HVAC business your desired results—from standing you out from the crowd to helping you acquire new leads and ultimately growing your business. 
__________Start of an Ad
What makes "Hvac Marketing Xperts" the best Hvac marketing company for Hvac businesses?

We Guarantee Minimum 300k In New Customer Revenue – Or You Don't Pay

Contact us to get more customers for your HVAC company. 

___________End of an Ad
Hvac Social Media Post Idea #1: Share a DIY Hvac Tutorial
A DIY HVAC social media tutorial is your opportunity to showcase your expertise and help your customers troubleshoot common problems and perform simple tasks related to HVAC maintenance.
Creating and sharing practical how-to guides will not only help you gain your followers' confidence and trust but also bring in additional leads for your HVAC business.
An example of a DIY HVAC tutorial is sharing a social media post on how to install a programmable thermostat.
Hvac Social Media Post Idea #2: Share Before and After Hvac Photos
Potential customers are more likely to visit your social media page when researching your company for social proof and validation. It is important to display the quality of work your HVAC company can do by sharing before and after photos.
Having your technicians and installers take before and after pictures of work done on Job sites validates that your team does satisfactory and clean jobs on HVAC maintenance and installations and adds to your company's credibility.
Hvac Social Media Post Idea #3: Share Helpful Blog Posts on HVAC Topics
You provide your audience with helpful and informative content by writing and sharing blog posts on various HVAC topics on your social media platforms.
When you share helpful HVAC blog posts, you demonstrate industry expertise to your current and prospective customers so that your brand pops up whenever they think of using HVAC services.
Also, you will drive traffic to your website—from followers on social media who are interested in learning more about HVAC-related topics—by posting links to your blog posts.
The following are some HVAC topics you can write about on your blog:
How to choose a high-quality HVAC system.
Tips on how to find a new HVAC provider.
Homeowner recommendations for a maintenance schedule.
The price of cooling and warming your house.
Ways to cut your energy costs.
Recommended: Hvac advertising examples
Social Media Post Idea for Hvac Companies #4: Post Customer Success Stories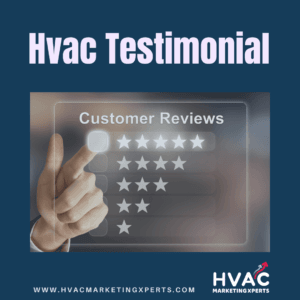 Post your customers' success stories. Doing so will enable you to highlight your company's accomplishments and enhance its outlook. Sharing your customers' success stories will increase customer satisfaction and create good impressions of your company in the minds of your potential customers.
These types of posts will exemplify your commitment to customer satisfaction and reassure your followers that they can rely on you to serve them well.
Social Media Post Idea for Hvac Companies #5: Share Your Team Photos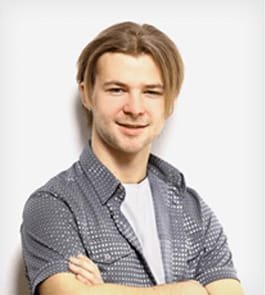 Let your followers in on what is happening behind the scenes. You can create a buzz and generate rapid engagement on your HVAC social media platform by sharing photos of your team in action.
Not only will this make your team feel important, but it will create a sense of value for your followers, who see how much you are eager to show your team spirit and strength.
Keep a reminder of all the birthdays and work anniversaries of your employees; share a bit about them and the work they do in your company during these special occasions.
Social Media Post Idea for Hvac Companies #6: Go Live
on

 Social Platforms
Live videos are a great way to attract a wide range of engagement and create a connection with your audience.
Hosting live videos on your social media platforms will help you interact with your audience in real-time and answer their questions about your business.
You can also talk about HVAC topics that would benefit your audience. Ask questions about their HVAC challenges and subsequently create blog posts and articles addressing these challenges.
Hvac Social Media Post Idea #7: Host Giveaways
Giveaways and contests are a great way to spread the word about your HVAC business and get people to interact with you on social media.
To make your offer more compelling, think about attaching a condition for followers who are interested in your contest. For instance, you can require them to invite their friends to comment and like their comments under your post. You can then offer HVAC services or products as giveaways to those with the highest likes and comments. This will enable you to reach a wider audience and engage more people.
Hvac Social Media Post Idea #8: Post Infographics Content on Hvac Topics
You can share infographics on your social media platforms to educate customers about complex HVAC topics. Not only that, infographics are the perfect format for sharing data and statistics.
You can display your HVAC services and products in an interesting and visually appealing way. For example, you can use an infographic to show your audience how you've helped customers reduce their energy bills.
Hvac Social Media Post Idea #9: Post HVAC Memes
You're missing out big time if you're not using memes as part of your social media content strategy. Memes are one of the best strategies to facilitate social media engagement.
Avoid just copying and pasting irrelevant memes you come across on social media. The most effective memes are those that are relevant to trends in your industry and are specific to your business and service area.
Keep up with the latest happenings, news, entertainment, and other HVAC industry trends.
Hvac Social Media Post Idea #10: Post Testimonial from Your Customers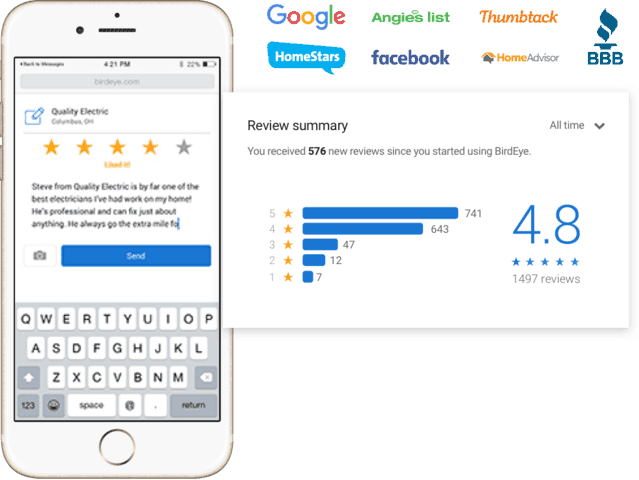 Satisfied customers are always eager to share reviews and testimonials. Reach out to them and have them write about their experiences with your products and services on your company's review page. The best part about social media is that you can share the positive reviews you receive on your website.
If you want to be extra, ask your customers to share video testimonials. Users have a long-standing preference for watching videos over pictures that contain text. This can significantly increase your engagement rates and help you convert leads.
Hvac Social Media Post Idea #11: Post Awards Your Company Earned
If your company has earned an award or two, why not showcase them on your social media platforms?
Your business awards are a way to showcase that your HVAC company is being recognized and acknowledged for the hard work that you and your team have put in. Showing off your awards elevates your company's credibility and signals to your audience that you're a company they can trust.
Not only does it ramp up your company's profile and set you apart from your competitors, but it also attracts potential customers to your HVAC business.
Hvac Social Media Post Idea #12: Post Offers and Limited Discounts
If you want to promote a few of your business's exclusive deals and discounts, why not share a social media post about them?
Promoting your company's unlimited discounts on social media will help your company take up the front view of your customers' minds. This can also generate interest among potential customers and may result in conversions.
Ensure your offers are easy to read and comprehend and remember to include any expiration dates or deadlines.
Recommended to read: Hvac marketing tips
Summary: Social Media Marketing Post Ideas for HVAC Contractors
Outstanding social media post ideas are powerful tools to generate and convert leads.
You want to avoid appearing needy by posting much promotional content. Ensure your social media posts provide value for your audience and are helping to answer their HVAC-related questions. Be keen about engaging potential customers and building connections with current customers.
Utilizing the social media post ideas in this article will help you stand out on social media and scale your HVAC business.
What is the importance of having a strong social media presence for HVAC businesses?
Having a strong social media presence is crucial for HVAC businesses as it allows you to showcase your services, reach a wider audience, and establish credibility in the industry.
How can HVAC companies benefit from social media marketing?
Social media marketing can benefit HVAC companies by increasing brand visibility, driving traffic to their website, generating leads, and creating a loyal customer base.
What is the best platform for HVAC social media marketing?
The best platform for HVAC social media marketing depends on your target audience and marketing goals. However, popular platforms for HVAC businesses include Facebook, Instagram, and LinkedIn.
How can HVAC companies create an effective social media strategy?
HVAC companies can create an effective social media strategy by defining their target audience, setting specific marketing goals, consistently posting engaging content, and analyzing the performance of their social media campaigns.
What types of posts can HVAC companies share on social media?
HVAC companies can share a variety of posts on social media, such as tips for maintaining HVAC units, before and after project pictures, informative articles about HVAC systems, customer testimonials, and promotions or discounts.
How can social media help HVAC businesses dominate the digital marketing landscape?
Social media provides HVAC businesses with a powerful marketing tool to reach and engage with their target audience, drive website traffic, and differentiate themselves from competitors in the digital space.
What are some current social media trends HVAC companies should be aware of?
HVAC companies should stay updated on social media trends such as the rise of video content, influencer marketing, interactive stories, and the importance of authentic and user-generated content.
How can social media posts help meet HVAC business goals?
A: Social media posts can help meet HVAC business goals by attracting new customers, building relationships with existing customers, promoting services and products, and enhancing the overall brand reputation.
How can HVAC companies create engaging social media content?
HVAC companies can create engaging social media content by using visually appealing images and videos, sharing informative and relevant articles, asking questions to initiate conversations, and addressing common HVAC needs and concerns.