The Best Hvac Advertising Examples to Inspire You
Creative HVAC ads are essential for converting leads into paying customers. The most successful and creative HVAC ads are targeted, attractive, and unambiguous, with clear and strong calls to action that encourage a lead or customer to make an appointment. By using creative advertising concepts such as clever and memorable slogans, unique visuals, and catchy phrases, you can stand out from the competition and appeal to your target audience.
If you're looking to get more leads for your HVAC business through effective Hac marketing strategies, check out these nine hidden advertising examples that are sure to help you launch a successful campaign. 
__________Start of an Ad
What makes "Hvac Marketing Xperts" the best marketing company for Hvac businesses?

We Guarantee Minimum 300k In New Customer Revenue – Or You Don't Pay

Contact us to get more customers for your HVAC company. 

___________End of an Ad
HVAC Facebook Ads Examples from Hvac Brands to Inspire You
Get started with creative HVAC Facebook ads. Facebook is the most used social media platform for Hvac companies, with about 3 billion active users as of the second quarter of 2023.
With Facebook ads, you can reach your target audience and create lasting impressions that translate into conversion.
Check out the following creative examples of Facebook ads from HVAC brands around the web to get some inspiration! These ads are guaranteed to get your creative juices flowing.
Moore Heating & Air Conditioning
Our first example is the Alaskan HVAC company Moore Heating & Air Conditioning Facebook Ad.
Because the winter months require steady heat and the cost of a malfunctioning furnace is not what customers would like to deal with, the company took to its Facebook page with an ad campaign promoting its furnace warranty.
The Facebook ad featuring a baby crawling on the floor is a helpful reminder of how important an effective heating system is for everyone during the winter period.
Running a similar ad campaign for your HVAC company will reduce costs and risks for your customers and, in turn, enhance customer retention and increase sales and revenue.
Harris Plumbing, Heating, Air & Propane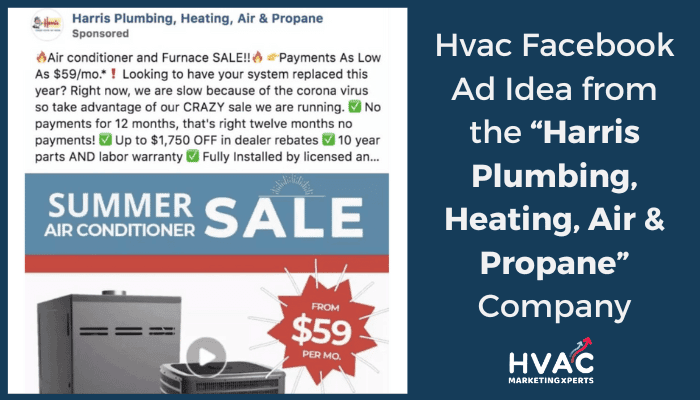 The next creative example of an HVAC Facebook Ad is from Harris Plumbing, Heating, Air & Propane in Maryland.
The Facebook Ad promoting a summer sale for their air conditioner and furnace was designed to grab customer's attention using the $59 monthly starting price tag to incentivize their target audience.
Speedy Air Conditioning Service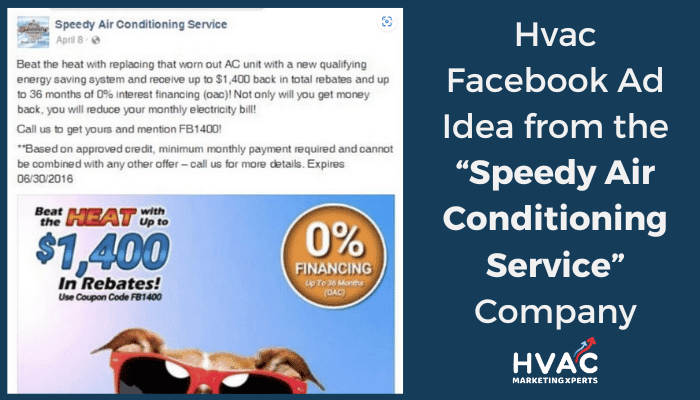 Speedy Air Conditioning Service, in Port St. Lucie, Florida, in their HVAC Facebook Ad, used the image of a dog in sunglasses to draw attention to their company's most recent Facebook exclusive rebate offer.
It doesn't get any more sunny than the dog lounging in a striped beach chair and donning sunglasses. The dog appears comfortable and relaxed, a vivid display of what Speedy Air Conditioning Service potential customers can enjoy from using their products on sunny days.
Even if the attractive graphic didn't convince you, the large bubble that reads, "0% financing," will make you think twice.
HVAC Google Ads Examples that Have High Potential to Convert Leads
Google Ads can be extremely beneficial in generating leads for your HVAC company. However, it's crucial to create Ads with a high lead conversion rate. Despite having fewer graphics than Facebook ads, Google Ads are incredibly impactful. According to online business resource Website Rating, the average Internet user is four times more likely to click on a Google ad than any other.
If you're not already using Google ads, start by understanding what potential customers are looking for when searching for HVAC services. Then, create ads that are relevant to their needs.
Here are some examples of HVAC Google ads ideas you can learn from:
Elite Heating, Air Conditioning & Plumbing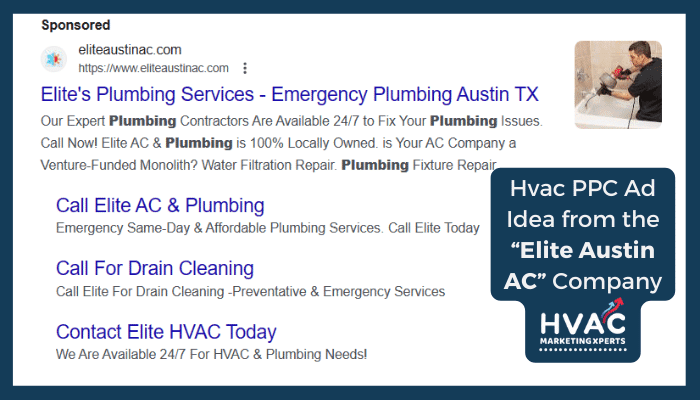 An example of a simple yet creative HVAC Google ad is from "Elite Heating, Air Conditioning & Plumbing." It contains important information, like the company's availability and contact link, that would make booking an appointment easy.
Elite Heating, Air Conditioning & Plumbing also includes "call for drain cleaning" and "contact elite Hvac today" in their copy to entice users to click. For customers looking to save costs, these words are attractive, high-quality clickbait.
Comfort Air Conditioning & Heating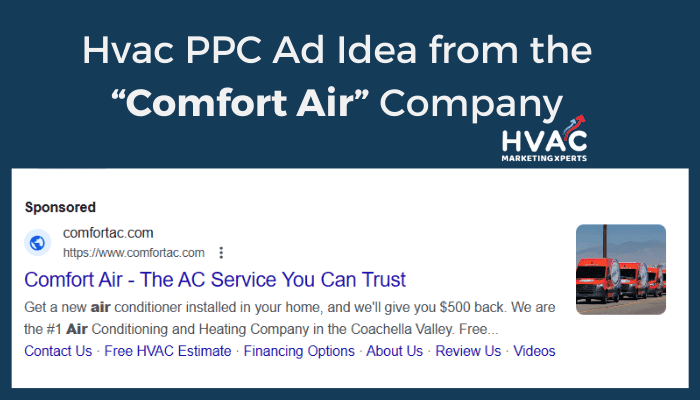 Another HVAC advertising example worth learning from is On Time Heat and Air, LLC, an HVAC company in New Jersey.
In addition to a link to their homepage (something you might find appealing), the Google HVAC ad features two clickable links for air conditioner tune-ups and repairs.
This type of ad would do particularly well in the summer when everyone needs a functional air conditioner. The ad remains effective throughout the year if the copy is reworded during the fall to emphasize heaters and furnaces.
Recommended to read: Top Hvac marketing strategies
Other HVAC Ads Examples You Can Try for Your HVAC Company
Here are other examples of HVAC ads that use compelling elements to draw viewers in and drive traffic to their websites:
The Heating Specialist
Another creative Google ad is from The Heating Specialist in Portland. The copy contains information that a lead needs to know to make an informed purchase decision, including the duration of the business, the certification status of the technicians, and the availability of free consultations.
Additionally, the ad includes The Heating Specialist's number so an interested lead can contact the company after going through the Google ad.
Not Just Cooling
The billboard ad from the UK HVAC company, Not Just Cooling, is one of the best examples of HVAC advertising. Billboards ads have only a few seconds to make an impression on viewers, and this ad does so well.
The ad features a woman wearing summer attire and sunglasses with an inscription next to the picture that reads, "Your wife is hot!" How does that relate to HVAC? The ad's second sentence, "Better get the air conditioning fixed," makes the point.
SunGlow Heating & Cooling
The creative HVAC advertising example from SunGlow Heating & Cooling shows powerful imagery that should inspire you to contact their company for an appointment.
The image features a young girl dozing off on the kitchen floor with a pillow under her and an open refrigerator, allowing all the cold air to escape so she can get a nice night's sleep. You can get the idea of the ad from the ad's text, "Ready for the summer heat?" The picture of the little girl napping by an open refrigerator clearly shows she wasn't ready.
Even though an adult can manage to live in a house that is too hot in the summer or too cold in the winter, they would want to subject their children to that experience.
The company includes multiple ways to get in touch with them: Phone number, website, and social media accounts. The ad also has a QR code you can scan to book an HVAC tune-up.
Outer Banks Heating & Cooling
The last on our list is the HVAC ad from Outer Banks Heating & Cooling. The concept of the ad focuses on family comfort.
The ad displays the picture of a beaming family of a mother, father, and two kids in bed, presumably because their HVAC system provides them good comfort.
Their ad title, "Your 'One Call' Comfort Solution," invites you and your family to experience the same comfort by giving the company a phone call or visiting their website. The ad also includes a summary of the services that Outer Banks offers.
Recommended to read: Top Hvac digital marketing strategies
Top 5 Hvac Advertising Ideas that are Effective in Getting Customers
The following are the top 5 HVAC advertising ideas that your HVAC company should consider:
Hvac Pay Per Click Advertising
You can leverage Google's wide reach to drive traffic to your HVAC company website. One of the ways you can do this is by pay-per-click ads. The advantage of this type of advertising is that you only pay when someone clicks on your ad, hence the term "pay per click." The downside is having multiple clicks without converting into a paying customer.
Since you bid on keywords, it's important to remember that other HVAC companies will be vying for the same keywords. You may have to spend a significant sum of money to appear on page one (Google AdWords will propose an amount, but you can bid anything you like).
While you might want to start with something other than expensive Google AdWords, getting ranked on Google's first page using the relevant keywords will help your company maintain a competitive web presence.
Use Testimonials & Reviews to Build Trust and Convert Prospects
Make sure you follow up with each of your customers to get a review of what they think of your company's services. Recent statistics show that 95% of consumers would check internet testimonials and reviews of a company before doing business with them. 73% of consumers say a positive review increases their likelihood of trusting a local business.
Sharing customer reviews enables you to establish credibility with your leads and present concrete proof that your organization is a respectable one deserving of their business.
Use Follow-Up Ads on Google and Facebook Retargeting Ads
You can significantly enhance your returns by combining your current advertising with Google follow-up and Facebook retargeting ads.
Follow-up and retargeting ads help you reach prospects who previously visited your website but are yet to convert. They will see your ads everywhere they go online while they browse the web.
The more times they see your company ads, the more likely they will think of you when they need HVAC services.
Use Seasonal Advertising
Customers' demands change with the seasons. When running HVAC campaigns, seasonal weather variations can be a major source of inspiration for HVAC companies. For instance, running an ad on heater repair, furnace maintenance, and other services that keep people warm is necessary for the winter season.
Ensure your marketing campaign starts eight to ten weeks before the peak seasons. Seasonal advertising will help maintain your company's visibility to your target audience.
Leverage HVAC Postcards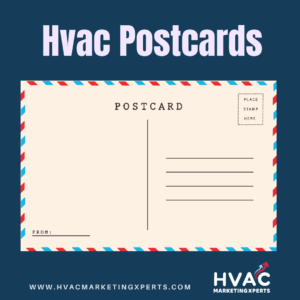 Direct mail advertising employing seasonal postcards is one of the tried-and-true strategies HVAC companies use to promote their product and services.
A recent study shows that 54% of consumers would rather get these kinds of advertising by direct mail. What's even more shocking is that 79% of people who receive direct mail open it right away, compared to 45% of people who receive it via email. Most importantly, in the last three months, 40% of consumers made a purchase due to direct mail.
Recommended to read: Hvac social media post ideas
Summary: Best Advertising Examples and Ideas for Hvac Companies
Creative HVAC advertising is an opportunity to express your ideas creatively and show off the heating, cooling, and other services your HVAC company offers. While ideas are helpful, it can be particularly useful to see real-time HVAC marketing examples to gain perspective.
Whether your HVAC company is more focused on Facebook ads, Google Ads, or other forms of advertising, the 15 HVAC advertising examples and ideas in this article will help you stand out in your market, increase your conversion rate, or accelerate your market share.
What is HVAC advertising?
HVAC advertising refers to the various strategies and techniques used to promote HVAC businesses and services. It involves creating and implementing marketing campaigns to attract new customers and increase brand visibility in the HVAC industry.
What are some HVAC advertising examples?
Some HVAC advertising examples include running paid ads on search engines, social media platforms, and websites, creating banner ads, implementing email marketing campaigns, optimizing websites for search engines (SEO), and using promotional events or offers to attract new customers. Visit this page for Hvac SEO Tips.
How can HVAC advertising help my business?
HVAC advertising can help your business by increasing brand awareness, attracting new customers, generating leads, and ultimately driving more sales. It allows you to reach your target audience and promote your services effectively in a competitive market.
What are the best HVAC marketing strategies?
Some of the best HVAC marketing strategies include having a professional and user-friendly HVAC website, implementing Hvac SEO techniques to improve online visibility, utilizing email marketing to reach and engage with potential customers, running targeted paid ads on search engines and social media platforms, and focusing on lead generation techniques to capture potential customers' information.
How can I generate leads for my HVAC business?
There are several ways to generate leads for your HVAC business, including implementing lead capture forms on your website, offering valuable content in exchange for contact information, running targeted paid ads to reach potential customers, utilizing social media platforms to engage with your audience, and leveraging customer referrals and testimonials.
What are some effective ways to advertise my HVAC services?
Some effective ways to advertise your HVAC services include running paid ads on search engines and social media platforms, optimizing your website for search engines, utilizing email marketing campaigns, creating informative and engaging content, leveraging customer testimonials and referrals, and participating in local community events or trade shows.
How can I promote my HVAC business through Google?
To promote your HVAC business through Google, you can set up a Google My Business listing to ensure your business appears in Google's search results and maps. You can also run targeted paid ads on Google Ads to reach potential customers searching for HVAC services in your area.
How can HVAC advertising help me close more sales?
HVAC advertising can help you close more sales by increasing brand visibility, attracting qualified leads, and building trust with potential customers. By effectively promoting your services and showcasing your expertise, you can position yourself as the go-to HVAC contractor, making it easier to convert leads into paying customers.