HVAC Search Engine Optimization – 15 Top SEO Tips for HVAC Companies
Working on SEO for an HVAC company is crucial for HVAC business growth on the internet. It brings prospects and customers into the sales cycle without spending a fortune on search engine marketing (PPC) and Hvac social media.  
Local SEO for HVAC contractors is crucial because the primary focus of all HVAC companies is to get local customers (that's where the money is). According to BrightLocal, 87% of people use Google to research and find local businesses to partner with or hire. These figures depict the importance of HVAC SEO in the HVAC industry. 
In context, less than 1% of Google search users click on the second page of search engine result pages; this has made the competition fierce as brands and local businesses want to rank only on page one. This blog post will delve into "Hvac SEO tips and strategies" to get more clients for your Hvac business through search engine optimization strategies. 
__________Start of an Ad
What makes "Hvac Marketing Xperts" the best SEO company for Hvac businesses?

We Guarantee Minimum 300k In New Customer Revenue – Or You Don't Pay

Contact us to get more customers for your HVAC company. 

___________End of an Ad
What is Hvac SEO?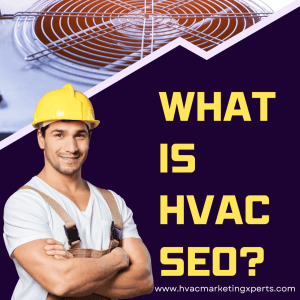 Hvac SEO or search engine optimization for Hvac businesses involves optimizing your Hvac website and Google Business Profile for organic search rankings and traffic generation. Effective HVAC SEO involves SEO techniques and strategies below:
Keyword research to target keywords your potential customers search on Google.

Creating helpful content targeting the right search queries.

Running site audit to ensure your Hvac website's technical SEO errors are fixed. 

Mobile optimization.

Leverage local SEO efforts to target local Hvac customers near your business location.

Video marketing to target video consumers on YouTube and other social media platforms.

Email and social media marketing to push direct traffic to your website and blog article (engaged referral and direct traffic aids in search engine optimization)
A critical aspect of improving your HVAC SEO isn't just ranking keywords but creating the right content that aligns with the searcher's intent. Also, every business needs to focus on several other essential elements, which are discussed in this guide.
Top HVAC SEO Strategies to Get More Customers for Hvac Businesses
Below are the best SEO strategies and techniques to drive traffic to your Hvac website. Suppose you want to grow your business; ensure that your Hvac company uses a combination of these strategies and techniques. 
Create a Business Website for Your Hvac Company
Any Hvac digital marketing agency that provides HVAC SEO services will mention that Hvac SEO all begins with the company website because it works as the face of your brand.
The factors that are responsible for an SEO-friendly website are the following:
Ensure your website is responsive and mobile-friendly
Customers love to visit a responsive company website again and again. Search engines like Google love sites that are responsive and user-friendly; this is why they use the mobile version of your site to index your web pages: mobile-first indexing.
A company that makes it hard for mobile users to navigate and access their site leaves a ton of money on the table.
Data from 

We Are Social

 reports that there are 5.44 billion smartphone users globally (as of August 2023). 

According to 

ReviewTrackers

, search users use mobile phones or tablets to submit 57% of local search queries.

In 2022, HubSpot reports

 that 41% of web searches are from mobile devices, which accounts for the most web traffic.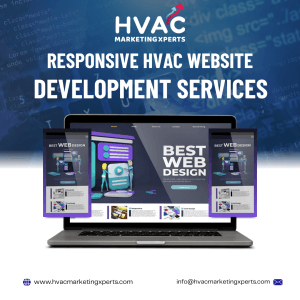 Can you see why you need a mobile-friendly website for your Hvac business?
If you lose all the traffic from potential customers on mobile, you will likely be out of business in no distant time.
When designing a website that is easy to use on a mobile device, bigger buttons, large fonts, a simplified menu, and easy-to-find contact options must be prioritized.
All these factors collectively make it convenient for the customers on mobile to use your site conveniently. With bigger buttons and larger fonts, web users won't have to zoom in on their mobile screens to find information on your site. 
A simple menu allows for finding the required information quickly. Meanwhile, when website visitors find contact information quickly, they're more likely to become your customers.
One page dedicated to one service
Google doesn't rank websites; they rank web pages. An HVAC company that provides services such as installation, maintenance, troubleshooting problems, and repairing broken systems should create individual service pages to target relevant search terms to increase your site's search visibility.  
We recommend having one webpage dedicated to each home service your Hvac business offers to make room to target different keywords that your customers search, such as:
HVAC Company Near Me

AC Repair

Furnace Repair
The elements mentioned above improve the effectiveness of your HVAC SEO efforts as they allow website visitors to go straight to the service they require and the system they want to get repaired.
This ease of use and availability of complete information about a particular service make customers trust you because you have provided them with everything they need on a webpage.
Page speed optimization for Hvac business sites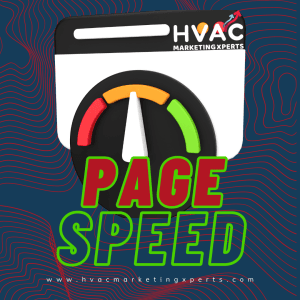 An Hvac company needs to design and develop a website that is easy to navigate and takes less time to load pages on mobile devices. When mobile users wait longer for a page to load, it annoys them, which leads to higher bounce rates (a negative SEO for Hvac companies). 
Now that you have understood why Pagespeed is crucial for HVAC websites, your next question would be: how can I improve my site's page speed and performance on mobile devices?
After working with different clients and exploring research guides regarding site speed optimization, we discovered that the major culprit of slow web pages is their web hosting environment and page speed optimization tools they use to optimize their site.
Assuming you use the most popular CMS, which is WordPress, the best ways to make your HVAC website fast and responsive are shared below:
Choose a safe and dedicated web hosting server from Hostinger or Kinsta (shared hosting isn't recommended), 

Install a caching plugin such as WProcket (paid) or Litespeed plugin (free), 

Set up CDN for your business site (we recommend using Cloudflare CDN as it's the largest CDN globally). 
All the abovementioned are vital in making your site load faster.
Your web server is the most important because all the information, files, images, and graphics displayed on your visitor's screen are stored on the server. The longer it takes to load a file, the slower a website is.
So, choosing a fast and secure web server powered with server caching and CDN is crucial to decreasing load time and improving SEO for HVAC companies. 
You can check your site's page speed using "Page Speed Insights" (Mobile/Desktop) or "GTMetrics" (Desktop only). These tools will crawl your site and show you information about your site's performance and where you need to improve to increase your overall performance. 
Need Help Setting Up a Website for Your Hvac Company? 
Get in touch for free digital marketing consultation for your Hvac business today.
Prioritize Local SEO for HVAC Contractors
Hvac local SEO suits HVAC companies because they don't provide services across borders and are focused on the local market. It should always be a priority for HVAC providers to attract local customers because they are the target market businesses need to make more revenue.
Create a Google Business Profile, formally Google My Business
Google Business Profile (GBP) is the largest local listing platform where local businesses, such as HVAC companies, can list their business. As Google is the most famous search engine around the globe, billions of customers search for local service providers daily with it.
It doesn't just let you create a business profile and add photos of your business and service. 
It also allows you to add the physical location on Google Maps so that customers know exactly where you're located.
With more people visiting your company website through Google Business Profile, it's an indication that your SEO efforts are paying off. Below are some of the ways local Hvac company can optimize their Google Business Profile for SEO success:
List your website on local directories relevant to your business

Verify your business profile

Send engaged traffic to your Google Business Profile (this is called CTR manipulation)

Get more reviews 

Post content on your GBP site

Have your address and phone number visible on your listing

Consistent NAP (Ensure your business name, address, and phone number are the same across all website and listing directories)
By incorporating different local SEO strategies, HVAC businesses can win more customers through search engine optimization. 
Get listed on local online business directories
A local business list or directory is an online business profile that contains all the necessary information, such as name, address, contact information, and more about your company. 
There are many online listing sites like Google, Yelp, Yahoo, and Foursquare, to mention a few. They work the best for any business that targets local customers. 
List your HVAC company on local listing directories and appear in the top search results when customers search for a service provider in their area. 
Get Reviews from your happy HVAC customers
Review sites, especially the local ones, have a significant role in improving the local SEO of any business. These sites host honest customer reviews about any business. Getting local reviews is recommended to HVAC companies working to improve their ranking on Google search results.
The words of a fellow customer have a greater impact on an individual's opinion than the words of a marketer or a business. 
The reason is that people tend to trust those standing right next to them in the audience instead of a marketer playing with words on a website or an ad running on the internet.
So, encourage your loyal customers to tell their stories about interacting with your company to attract prospects through public opinion and improve your local HVAC SEO strategies.
Incorporate local keywords on your Hvac website 
One of the most critical factors that scale up the SERPs of any local business is the keywords used in the content they produce and on the entire website.
These phrases represent what internet users look for on a search engine. They're more about the customers than the companies targeting them because these words are extracted from what people search online.
UpCity reports

 that local search queries about the weather and local "near me" keywords are the two most popular queries people use for voice search.
The above report from UpCity portrays the need for local SEO keywords across your Hvac business website. 
Use appropriate tools to find these keywords and incorporate them into your content, such as blogs, graphics, website content, and videos. 
Need Help Optimizing and Ranking Your Hvac Business Profile on Google Three Packs? 
Get in touch for free digital marketing consultation for your Hvac business today.
Leveraging content marketing and SEO moves the needle for Hvac contractors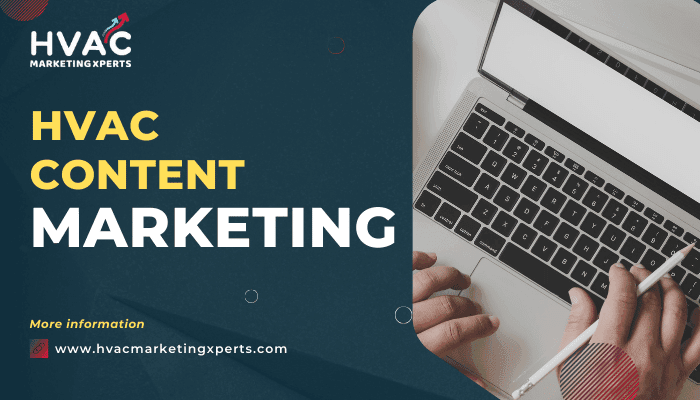 You may have heard that content is king, and there is no denying the truth about the statement. The reason is that content is the starting point of every digital marketing strategy.
Your website is full of content:
Landing pages

Sales pages

Service pages

Funnels

Blogs

Images

Videos

Audios
We have discussed creating landing pages for specific search queries above. To rank higher on Google, you need to understand how search works in the current era of search engine optimization. 
We will discuss more on creating blog content leveraging on-page SEO and untapped effective SEO strategy for your Hvac company below.
Create an SEO content strategy for your Hvac website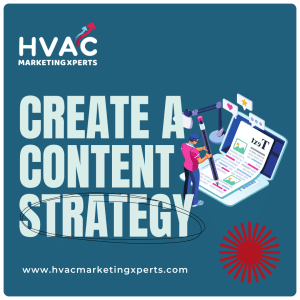 An SEO content strategy is a comprehensive SEO strategy geared towards your content marketing and content creation efforts for your website and blog articles. A content strategy demystifies:
What type of content to create,

When to create the content.

How to create the content, 

When to update, delete, or merge blogs or pages
An advanced SEO content strategy will involve additional information such as:
Search intent behind every topic in your content list,

Type of schema markup required for the content,

Discover and fix topic cannibalization,

And more.
Many HVAC businesses make the mistake of targeting keywords instead of topics, resulting in duplicate content and a waste of resources and efforts.
Take, for instance, this blog you are reading, which targets these keywords:
HVAC SEO,

Hvac Search Engine Optimization,

SEO for HVAC Companies,

SEO for HVAC Contractors, 

SEO for Hvac Businesses.
If you were asked how many blogs do you need to create for the five keywords above? You would answer "two, three, four, or maybe five pages of content."
But you need only one content because these search phrases above are semantically similar in context and meaning. By creating two or more pages, you are duplicating your content, which hurts your Hvac search engine optimization strategy. 
Not only does duplicate content make it difficult for Google to determine which page to rank, but you will have to pay 2-5 times for the same result and even more when you hire an SEO to fix content duplication on your site.
While this hurts so bad? Because you only know when you are creating duplicate content or hurting your SEO campaign once it's too late.  
You can avoid duplicate errors by creating a content strategy for your Hvac business before creating your first blog or service pages. 
We have saved thousands of dollars for our clients by using our content strategy services to prevent unforeseen content creation errors they may face.
Create informative blogs targeting the local market (with search intent in mind)
Leading Hvac businesses we know follow this approach by creating informative blog content for their target audience. 
To make it effortless for your content team, creating an SEO content strategy beforehand makes your SEO campaign a successful one.
Below are some keywords that your prospective customers are searching on Google:
HVAC Services

Heating and Cooling Solutions

Air Conditioning Repair

Furnace Installation

HVAC Maintenance

HVAC Contractors

Duct Cleaning

Emergency HVAC Services

Indoor Air Quality

Energy-Efficient HVAC
By creating blogs and service pages targeting these queries, you are one step away from ranking on Google's first page and generating organic traffic. 
Topical authority, a hot topic in search engine optimization, fueled the surge in content creation. Google said in the patent that they will rank an author that is seen as an authority in an industry.
The screenshot below is from a Google patent titled "System and method for determining topic authority:"
The screenshot clarifies the importance of Topical Authority in search engine optimization. 
You can achieve this (leveraging topical authority to target keywords relevant to your business) by making your website the hub for every search query related to Hvac.
A content strategy aids in becoming an authority in your industry. 
Need Help Creating a Content Strategy for Your HVAC Business or Becoming an Authority in Your Niche? 
Get in touch for free digital marketing consultation for your Hvac business today.
Leverage YouTube SEO to Reach Video Consumers
YouTube is the largest video streaming and search engine, with over 2.56 billion monthly users. 
YouTube is also the second largest search engine behind Google from Alphabet, Inc. (their parent company).
The importance of YouTube for business owners must be considered. 
For every company investing in Hvac SEO, YouTube SEO is a must. 
Sharing information about your Hvac business with the right keywords will help you rank on YouTube search results. 
An untapped and effective marketing strategy that works now in video-sharing platforms is using shorts to reach more people; these videos get high attention and views because they are short. 
It's a good idea for companies offering Hvac solutions to invest in short video marketing because social algorithms promote short videos well to reach more people.
Make Backlinks a Priority for a Successful Hvac SEO Campaign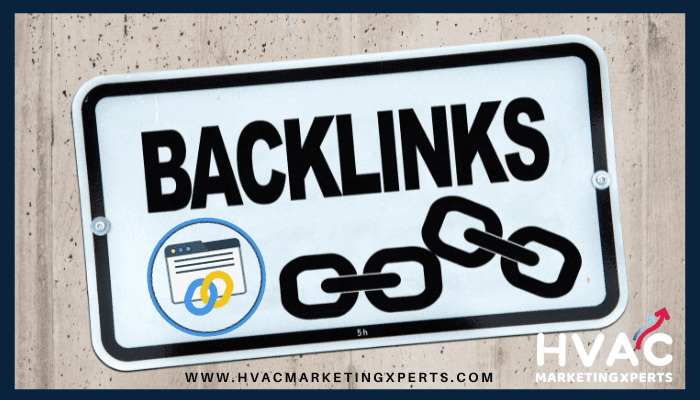 To improve your SEO in 2023, building relevant and high-authority links is crucial for a successful content marketing and SEO campaign.
About

 67.5% of SEO experts

 believe links impact search engine rankings.

7 in 10 SEO experts will tell you that backlink is among the top three most effective Google ranking factors.
Backlinks are like votes Google uses in their search ranking algorithms to determine what a page is about.
A study from the Backlinko blog shows that page with more links ranks higher than ones with fewer links.
How can you build links to your Hvac blogs and web pages?
There are many SEO tactics you can implement to build targeted links to your Hvac articles. However, below are the most common link-building strategies you can use to build organic links:
Guest posting (writing on other people's blogs for link exchange)

301 and Content Merger: Rebuilding an expired domain to build links.

Skyscraper technique (coined by Brian Dean, the founder of Backlinko. All you need is to write better content than that of your competitors and contact people linking to them to link to your blog)

PR links (in 2023, press release links became a trendy topic)

Social media marketing (by sharing your content on social media, it will reach potential people capable of linking to your site)

Publish research data or case studies (people love stats, and if you give them the data to back up their claims, they will link to your site just as you see with this blog)

Directory and listing sites (as an HVAC site, it's imperative to get listed on the directory and local listing platforms such as Yelp, Google Business, Yelp, Angi, UpCity, etc.)

Link outreach (contacting site admins and editors to link to your site)
There are many ways to build backlinks to your HVAC company website. However, the above listed are some of the most common ways to build links for Hvac sites.
Link building is tricky and difficult. Need Help Building Targeted Links to Your Hvac Company Site? 
Get in touch for free digital marketing consultation for your Hvac business today.
Make use of the social media and email marketing to send traffic to your site
SEO in 2024 has changed. HVAC contracting companies that want to stand out must adapt and innovate. Social media is the place to find almost every internet user and potential customers.
As Hvac webmasters, we recommend building a solid social presence and sending referral traffic from social media platforms to maximize and improve your search engine optimization efforts.
By sending engaged traffic from social media platforms, you are telling Google that information on your website is helpful. 
When Google picks these signals, such as time on site, page view per session, bounce rate data, and retention time, they will compare it with algorithmic benchmarks to determine if that page needs a boost in organic traffic. 
Sharing your content on social media will also generate backlinks for your website indirectly as the content reaches more people. 
We suggest you post relevant and engaging content on social media platforms with a link to your website where your prospects can get detailed information about your business. 
Likewise, you can do this with your email subscribers by sending traffic from your list.
Learn more about Hvac social media marketing.
Hire an HVAC SEO company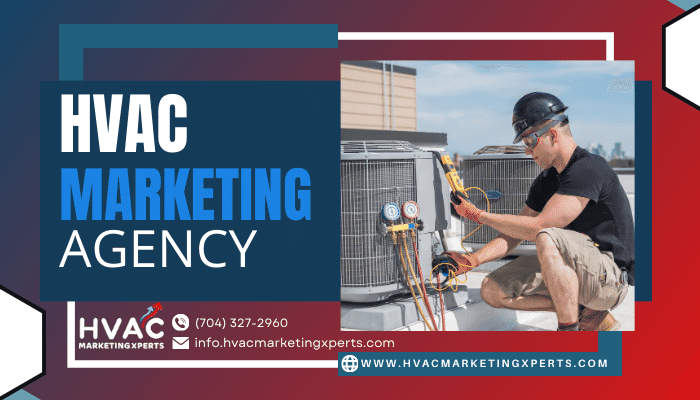 SEO marketing involves getting the basics of search engine optimization. You must get your site designed, optimized, crawled, and indexed to generate organic traffic.
No matter how engaging and well-designed the website is, how reasonable your local HVAC SEO efforts are, and how active your company is on social media, it still can't match the expertise of professional and specialized HVAC SEO service providers. 
The reason is that your company has the expertise to offer and provide HVAC services and not SEO marketing.
The best way to get a firm grip on all the aspects of HVAC SEO tips mentioned above is to hire an experienced Hvac digital marketing agency specializing in offering SEO services to Hvac companies. 
HVAC Marketing Xperts is one of the leading brands specializing in marketing for HVAC companies like yours. If we can do it for the Hvac business owners below, we can also guarantee to get you the results you desire.
Hvac Client Testimonials:
Customers above trust and recommend us because we get them leads clients and increase their revenue through our effective Hvac SEO Services. 
Want to get the same result?
Get in touch with us for a free digital marketing consultation today for you Hvac company.