We look forward to working with you to take your online marketing efforts to the next level
With a strong focus on SEO, A Conversion-Focused Website, Maps Optimization & Paid Search
Our goal is to help you increase your sales and grow your revenue by fully maximizing your lead flow online. Below is a visual we call "HVAC Accelerator System" ™. It outlines our roadmap to help you fully maximize your lead flow as you grow your
HVAC SEO
business.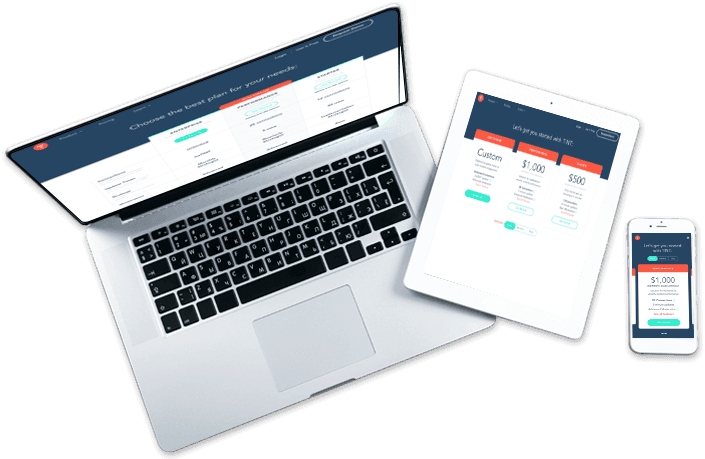 We Offer Everything You Need to Accelerate Your Business
Check out our core programs. We offer 3 times more than our competitors!
Best-in-Class Website Built to Convert
Our flagship program starts with the foundation of your internet marketing strategy – your website! If you don't have a website that is built to convert visitors to callers then none of your internet marketing efforts will bear fruit. We will develop & roll out a new and improved version on your website on www.yourwebsite.com. The new site will be mobile responsive and optimized for both SEO & Conversion Rate.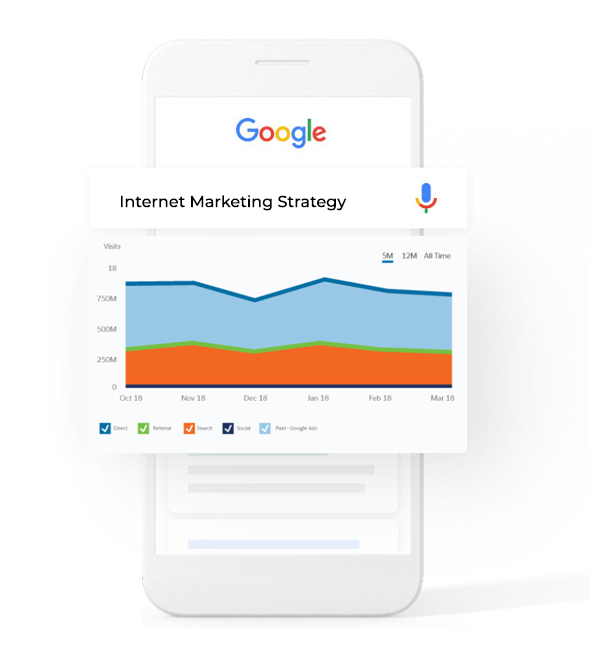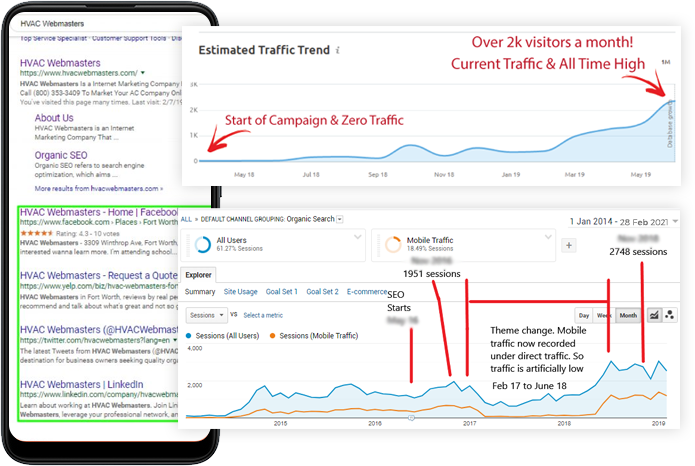 Search Engine Optimization
The key to an effective SEO strategy for your HVAC business is fresh, unique content. Our copywriting team will write unique content for the top 15
HVAC SEO Services
and 10 of the sub-cities in your service area (
CITY
+ 10 sub-cities). We will then incorporate that fresh content into the website with proper on-page optimization.
Link Building and Content Development
Once design, development, content and on-page SEO work is complete, the only way to get your site to rise above the competition is by building authority and relevance with quality inbound links. We will systematically develop inbound links from quality sources on your behalf via Competitive Link Acquisition, Article Distribution, Video Distribution, Social Media Bookmarking and a variety of other sources.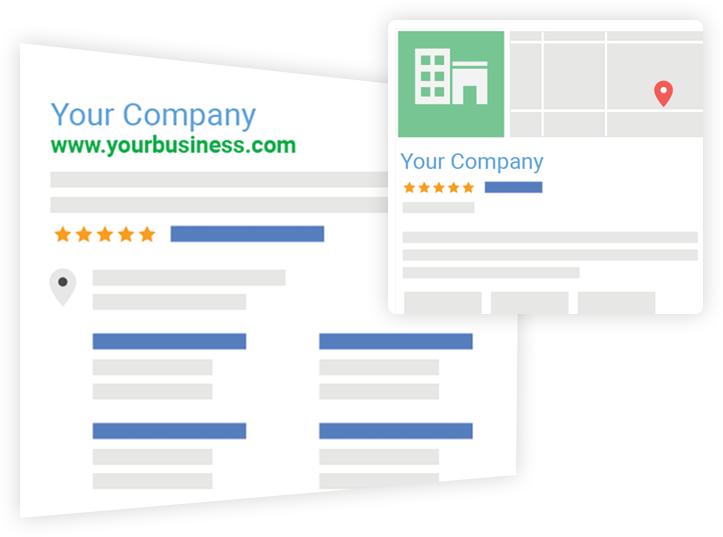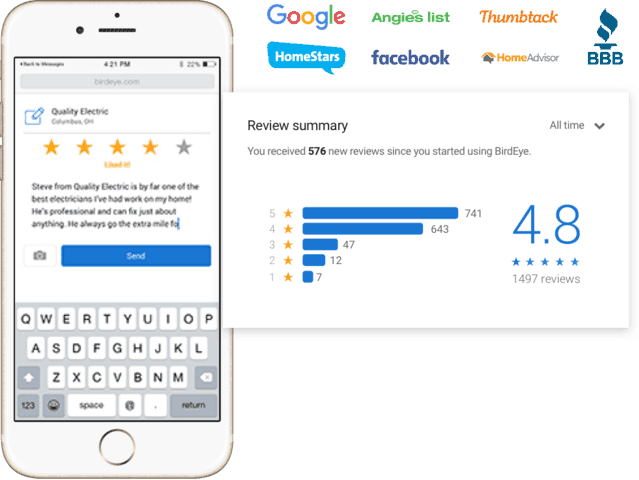 Two of the cornerstones of our strategy are Online Reviews & Consistently Posted Geo-Modified Content. We will be implementing our custom CRM on your behalf to help in both of these areas.
Review Request Automation – After checking in, your technicians will be able to send an already prepared email to the customer, requesting a testimonial that can be easily posted on one of the popular online review sites such as Google, Yelp, Angie's List, etc.
Reputation Management, Monitoring & Syndication
Your online reputation is critical to the success or failure of your internet marketing efforts. To that end, we will be putting a reputation management system in place to alert you as new reviews are posted (Good, Bad or Indifferent). This way we can be aware of and address the occasional negative review & syndicate the positive reviews to share the good word. Our "positive review" syndication  tool will be setup to automatically post the good reviews on your website and social media profiles.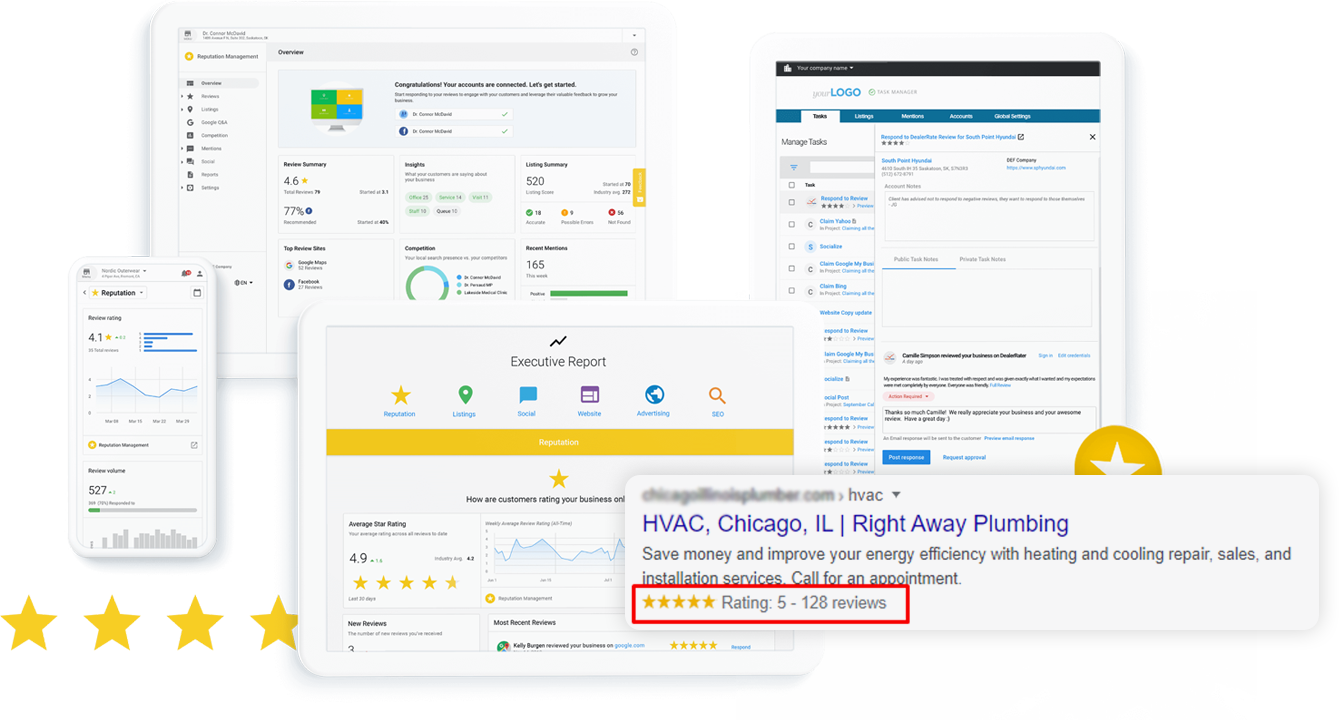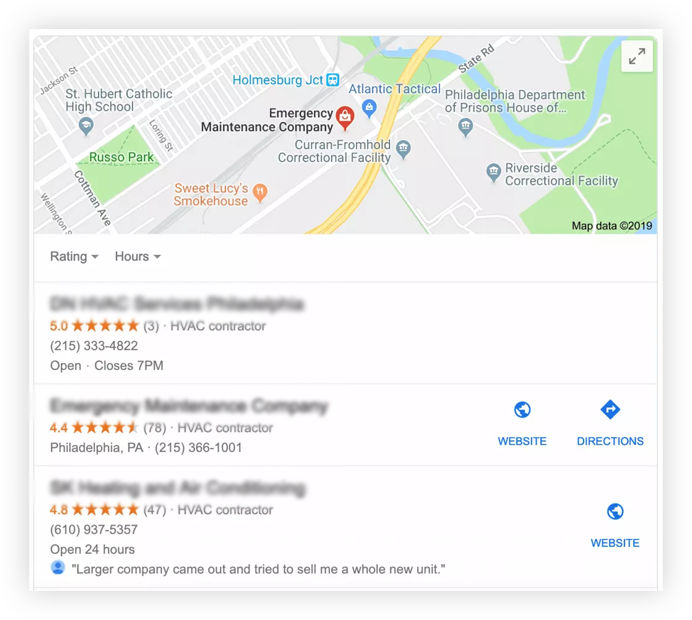 Map Listing & Directories
One of the keys to getting ranked on the Google Map in your area is to be listed with consistent information on the important online directory sites. Our team will claim, optimize and build out your map and directory listings on popular map / directory sites such as Google My Business (a.k.a. Google Business Profile), Bing Local Listing, Yahoo Local Listing, Yelp, CitySearch, Angie's List, Judy's Book and many other local directories. We will also do the necessary work to clean up any Name, Address & Phone Number inconsistencies on these online directory sites.
We will work diligently toward top page placement on Google, Yahoo and Bing in the Organic (non Pay-Per-Click) section of the Search Engines for the HVAC Related Keywords in and around the CITY Area.
Pay per Click Campaign Management
There are few things more powerful than the combination of effective design, strong copy, SEO & Google AdWords. Let's face it, you want high-quality leads on a consistent basis and you need results sooner than later. By rolling out an effective pay-per-click campaign we can start to generate highly qualified leads right out of the gates as soon as your new website is complete. There are a lot of moving parts involved in running an effective PPC campaign. We will manage the entire process for you, including setting up the ad groups, selecting the proper keywords, writing effective text ads and mapping everything to the most compelling landing page. On an ongoing basis we will review and update your text ads, keywords, bids and landing pages to maximize conversion and return on investment. Track, Measure & Quantify — The goal of this program is to help you grow.
In order to ensure we are delivering on that objective and to help you quantify the results of our efforts we will put the following tracking mechanism in place:
Key Performance Indicator (KPI) Tracking Dashboard
We will set you up with access to your very own K.P.I. (Key Performance Indicator) tracking dashboard that will help you keep a pulse on the most important metrics in your HVAC company.
Organic Traffic On Old Website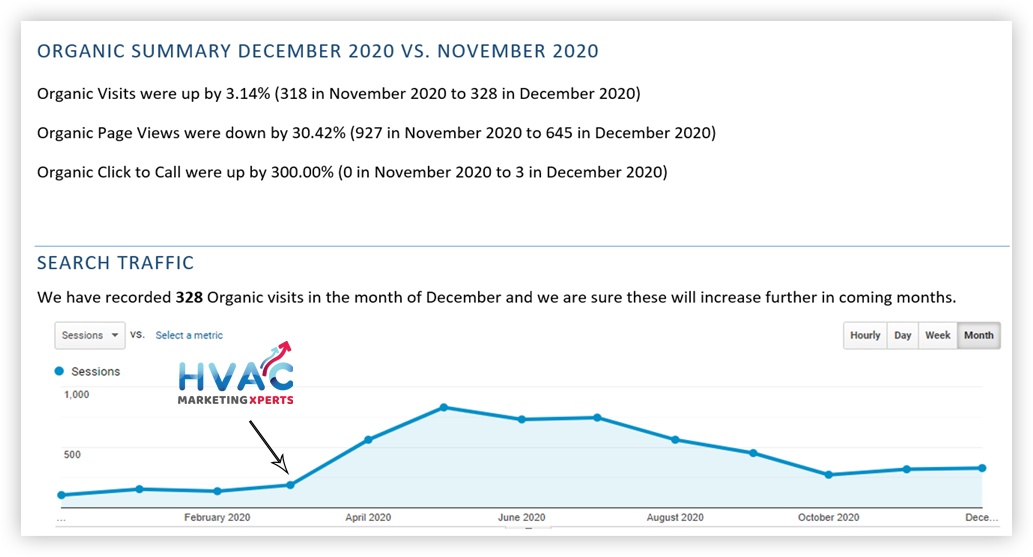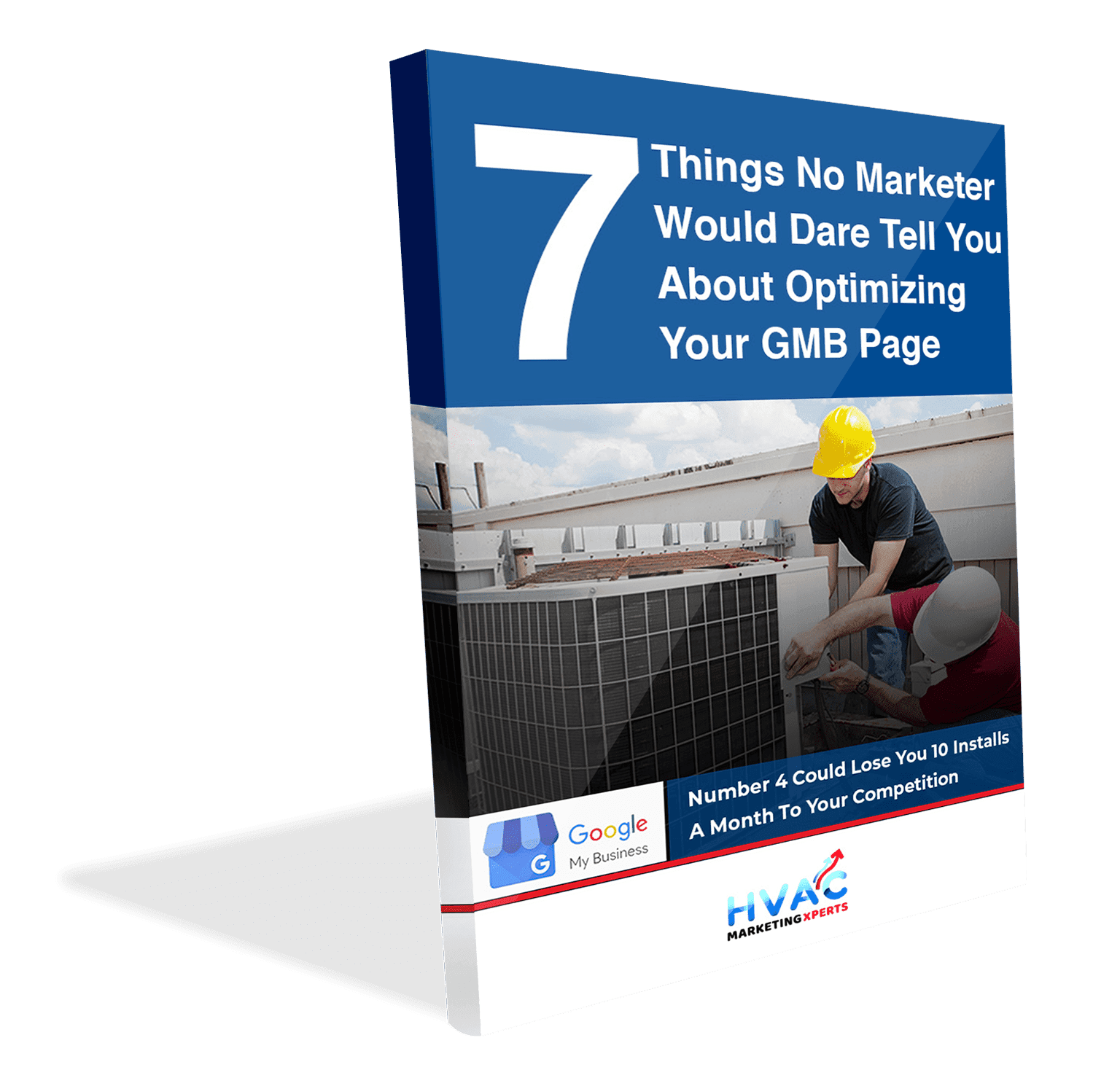 Let's Build Your
Sales Machine
Frequently Asked Questions
Our pricing varies based on what we'll be completing for your business. However, our HMX Boost Program currently starts at $1,297/mo
Is there a requirement on the current size of my company?
This is a great question, as a rule of thumb, we've found the companies with the highest degree of success with our services are generating a minimum of $350,000/yr in revenue. However, this is not a requirement. 
Do you offer any guarantees?
Great question, we do offer multiple guarantees based on which services we're providing for you, this includes positive keyword ranking guarantees for SEO, timeline guarantees website design, and PPC. 
Will I be locked into a long term service contract?
We get this question a LOT. We don't lock you into a long term contract for any of our services. However, we do offer massive discounts on our services if you'd like to opt-in to a longer term agreement (minimum 3 months). 
Refunds are handled on a case-by-case basis at HVAC Marketing Xperts. In 99% of cases however, if we fail to meet our end of our agreement as an company due to our own fault. The client will be entitled to a refund. This happens extremely infrequently and will be outlined in the service agreement prior to us beginning our work. 
How soon will I see results?
Great question, this will mainly depend on a few things:
What services we're doing for you
How quickly we can get access to your campaign-required accounts (hosting, analytics, etc)
As a general rule, we can have an ad campaign running as soon as 7 days. For SEO keywords rankings, it depends entirely on how competitive the keywords we're targeting are (we've ranked keywords in as little as 2 weeks). If we're talking about website design, it depends on the size of the website we're building. Typically we will have a website designed, completed, and migrated between 30-45 days. 
Does your team provide other services (beyond SEO)?
Great question, yes, our main services include:
HMX Program**
SEO (Organic & Maps)
Website Design
Google Ads (PPC, LSA, GDN)
Reputation Management 
Lead-Nurturing & Database Reactivation
Retargeting (FB, Google, YT)
Social Media Management
**Our "HMX Accelerator Program" include each of our core services bundled into one incredible offer at a price your jaw will drop at. Check it out here (link)
We like to draw the analogy of ranking your website on Google & other search engines as investing in a piece of virtual real-estate.
Your website, similar to a investment property requires:
Redesign costs
Maintenance costs
Upgrade costs
However, once your site is visible to hundreds-to-thousands of your ideal prospects every month who are actively searching in your area for your services. You not only place yourself in the greatest position to be found my your prospective customers, you also are able to begin to creative a massive ROI from your initial investment. See SEO Profitability Calculator.  
What can I expect after I signup?
Great question, after signing the service agreement & payment collection, the onboarding process is as follows:
Onboarding form - This form should take about 30 minutes to complete and has detailed questions such as general business information, contact info, and website access information)
Launch Call - This is a call with the account manager where we'll make introductions, timelines for your campaign, confirming where to send your welcome gifts as well as confirm any information that was potentially missed on the onboarding form.
Campaign launch - campaign launching will depend on which services we're completing for you. Please see "How soon will I see results?" above.