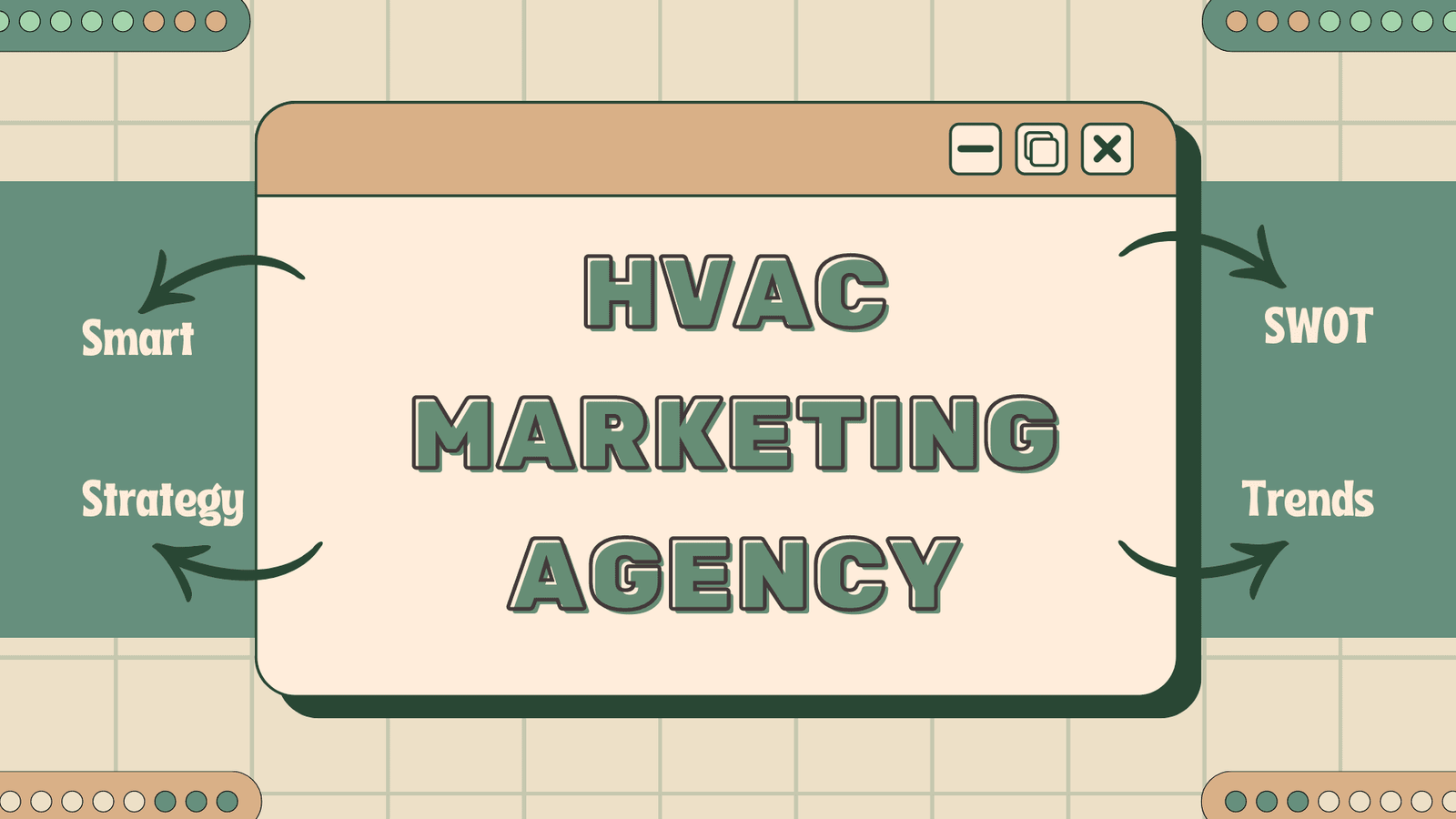 Marketing is a key tool for the growth of your business. Without proper marketing strategies, you won't be able to make your business stand out from the competitors. You should hire an HVAC marketing agency for the promotion of your brand; if you are in the HVAC industry.
HVAC marketing agencies are experts in providing marketing services to HVAC companies. They help you in developing marketing strategies, designing websites, lead generation, branding, content creation, and more to create your brand awareness and grow your business.
So you see, hiring an HVAC marketing agency is quite beneficial for your business. However, you should know some details before hiring them, cost for example. So keep reading the article to learn about them.
What Does HVAC Mean in Marketing?
You have already read the word HVAC in the article repeatedly, and you will find it more in the coming portion. Just to make sure that there is no confusion, let's clear out what it actually means.
HVAC is the abbreviation of "heating, ventilation, and air conditioning." And when it comes to marketing, there are some special agencies that are particularly experts in promoting HVAC brands. They are known as the HVAC marketing agencies.
What Services Do HVAC Marketing Agencies Offer?
HVAC marketing agencies offer a variety of services. You can count them as a one-stop service provider for the growth of your business. They usually provide the following services:
Develop marketing strategies
Website design and development
Lead Generation
Branding and Design
Content Creation
Social Media Marketing:
PPC Advertising
SEO Services
Email Marketing
You see, HVAC marketing agencies will provide all the necessary services you will need to make your brand popular. If you want to know about their services in detail, click here.
How Much Does It Cost to Hire an HVAC Marketing Agency?
Now that you know that HVAC marketing agencies are your one-stop solution to all marketing-related problems, you must be excited to work with them. However, you should consider the cost and your budget also.
The cost of hiring a marketing agency depends on several things. For example, your marketing strategy, goal, and length are some of the important factors that will influence the cost. Small companies usually spend $2500 to $12000 on average per month on digital marketing these days.
The expertise of the agency will also add to the cost. However, you should stay within your budget. Experts suggest investing about 10% of your yearly revenue in marketing. But if you want to go aggressive, then 20% can suit your needs.
How Long Does It Take to See Results from HVAC Marketing?
You must be in a rush to see results. Everyone is. No one can blame you for it. You should have patience, though, because it takes time to have an impact on the result. But how long? Well, it depends on various factors such as your business area, business strategies, target audience, national economy, marketing budget, etc.
Nonetheless, you can expect to see some impact in three months if everything goes okay. The result in the initial period may not seem much different, but it will go up with time. First slowly, then rapidly. Remember, your key to success is patience.
What should I look for when choosing an HVAC marketing agency?
Now we have come to the important question. You need to hire the best agency that understands your needs, vision, and future plan to get the best result. So, you should consider the following tips while hiring an HVAC marketing agency:
Your goals: you should write down your goals first. What do you want to achieve from this marketing? This answer will help you decide which agency will be best for you.
Experience: Once you have set the goals, check which agencies have relevant experience. It will assure you of the result.
Services: Not all agencies provide all the services. You may also not need all the services they provide. So, check which agency can provide you with all the services you need.
Reviews: It is 2023, and social media is all-time popular now. Take advantage of it. Check the reviews on the agency's website. Ask your community on Facebook and other social media platforms.
Portfolio: You must check their portfolio carefully. See what brands they worked for in the past and what the outcome was.
Transparency: Honest and transparency are two very important aspects you should consider while dealing with other organizations. If an agency is not transparent enough about its services, stay away from them.
Pricing: You should compare the pricing of various agencies. Talk to them and negotiate about the price.
How Can I Measure the Success of My HVAC Marketing Campaigns?
Okay, you have hired the perfect agency for your campaign and have invested well. What's next? You need to measure the success of the campaigns. You can do it based on the following metrics:
ROI: Return on Investment is the primary metric of measuring the success of your marketing campaign. Here is the formula to calculate ROI:
ROI = (Net Profit / Total Cost) x 100
Cost per win: measure how much you are spending to gain a single sale. The lower, the better.
Website traffic: it's a very important metric to measure the success of a marketing campaign. You can measure it through the number of visits, time spent on the website, bounce rate, and page views.
Conversion rate: the percentage of website visitors taking a preferred action, such as making a purchase
Cost Per Acquisition: it is the total cost of acquiring a customer through your marketing campaigns. Divide the total cost of your campaigns by the number of new customers generated.
What are Some Common Mistakes to Avoid When Working with an HVAC Marketing Agency?
You are investing your money; the agency is not. So, if the campaign fails, it's your loss, not theirs. So, here are some common mistakes you should avoid:
Not setting clear goals
Not understanding the process
Not giving the agency enough time
Not having a budget plan or enough budget
Not monitoring results
FAQs:
How do you attract HVAC customers?
Drawing customers is always important for business. You can attract HVAC customers through referral programs, lead generation machines; video marketing, social media marketing, and email marketing are some of the common methods.
Do you think HVAC is in high demand?
The HVAC industry is booming! The demand for HVAC is increasing not only in the USA but also throughout the world. The growth of population, advancement of technology, and efficiency of new HVAC products are boosting the demand for HVAC.
Conclusion
An HVAC marketing agency will help you promote your brand, grow your business, develop strategies, and many more. You cannot leave everything to them, though. That will be unwise and bad for business. You have to monitor their activities and the result on a regular basis.
It is important to hire the perfect marketing agency for your business and take some time in it. Be patient and assist them as much as you can. Their success is ultimately your success.