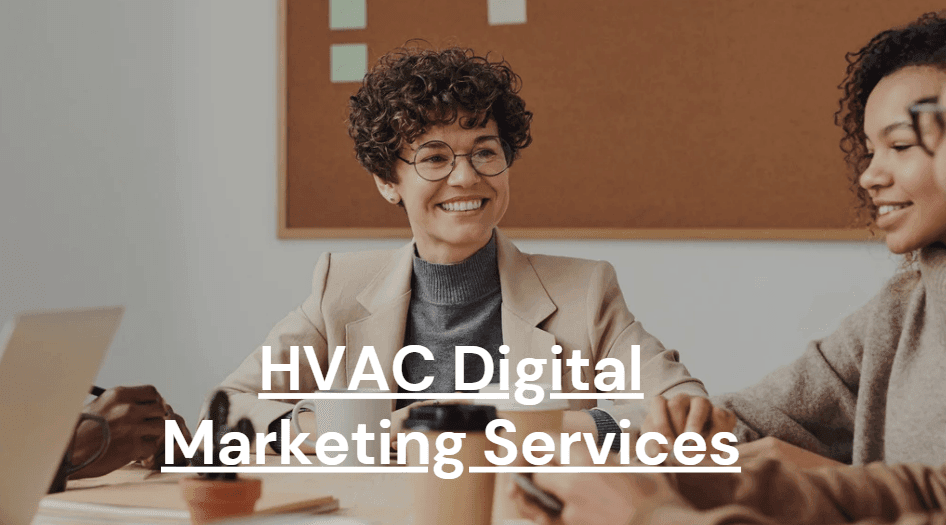 After the Covid19 pandemic, the world has undergone a massive change. The digital world has become more crowded. You should take advantage of it  As a wise businessman. HVAC digital marketing services are a must for the growth of your business.
HVAC digital marketing services include website design, social media marketing, SEO, lead generation, content marketing, email campaigns, etc. These services are important to gain new customers, retain them, create brand awareness, and the overall growth of your business.
You need these services, no doubt about that. Nonetheless, you need to learn about the services properly before deciding to implement some of them in your business.
Why is Digital Marketing Important for HVAC Businesses?
Why should you invest money in digital marketing? You should ask this question, and here is your answer. Digital marketing can help you in the following ways:
Helps your HVAC businesses reach more potential customers through online channels
A more cost-effective way to reach customers compared to traditional marketing methods
Lets you target specific audiences based on demographics, location, and interests
Provides measurable results
Helps you build brand awareness and authority through online content and engagement with customers
Enables your businesses to reach customers beyond your local area
HVAC Digital Marketing Services
You can see that digital marketing for HVAC companies is quite important. HVAC marketing agencies provide a lot of services. But you may not need all of them. So, let's learn about the services to decide which services you need. It will also save money for you.
HVAC Website Design and Development
Your website is the virtual store of your company. It provides the first glimpse to your potential customers. Here is why you need a good web design service:
It is the first point of contact between a business and its potential customers.
Provides helpful resources and support for potential and existing customers.
You should aim to have a reflective web design that will provide a better user experience. It will help you increase the conversion rate and increase sales.
Search Engine Optimization
SEO is one of the most crucial parts of digital marketing. The success of your digital marketing depends on proper SEO. It lets your audience discover you on the internet. And you should also focus on organic as well as Local SEO. SEO helps you in:
Improving the visibility of your website in search engines.
Bringing more visitors to your site.
Gaining the trust of your audience.
Gaining a competitive advantage over other businesses in your industry.
Another major benefit of SEO services is that it provides long-term results. It does not stop as quickly as paid advertisements.
Pay-Per-Clicks Campaigns
PPC campaigns are highly cost-effective for your business. You will only pay when your customers click on the ad. If they do not click, you don't have to pay. Apart from this, it lets you:
Have instant visibility on search engines.
Target specific audiences by demographics, location, interests, and keywords.
Have control over budget and spending.
Increase brand awareness and online visibility.
Track and measure the performance of the ads.
Get insights into user behavior and preferences.
Content Marketing
In today's world, content marketing is key for lead generation for HVAC companies. You can create HVAC Facebook posts, blogging, video content, and case studies to reach more people. It helps you build a relationship with your customers. Some of the other benefits of content marketing include:
Establishing yourself as an expert in the industry and gaining trust with their audience.
Improving SEO rankings and attracting more organic traffic.
Engaging leads who are interested in their HVAC products or services.
Increasing brand awareness and helping businesses reach a wider audience.
You can enjoy all these advantages at a very affordable price. In addition, content marketing is a long-term investment.
Social Media Marketing for HVAC Companies
Consumer behavior has changed over the last couple of years. They do not only search for answers on google but on social media also. That's why it is a good strategy to invest money in the social media market. It comes with the following advantages:
Increases brand awareness and visibility.
Builds a loyal following of customers and potential customers.
Provides opportunities to engage with customers and answer their questions.
Drives website traffic and increases conversions.
Creates a platform for sharing informative content and industry news.
Offers the ability to target specific demographics and geographic locations.
Email Marketing Campaigns
Email marketing is one of the earliest digital marketing strategies. It lets you send promotional or informative messages to a group of people using email. Here are some benefits of email marketing campaigns for HVAC companies:
A cost-effective way to reach out to a large number of customers and prospects.
Helps in building relationships with existing and potential customers by providing them with valuable and relevant content.
Allows for personalization and segmentation.
Provides detailed tracking and reporting on campaign performance.
Increases brand awareness and keeps the business top-of-mind with customers.
Can be used to cross-sell and upsell services to existing customers.
Helps in building a loyal customer base.
One of the best HVAC customer retention strategies.
FAQs
What is the cost of HVAC digital marketing services?
The cost of digital marketing services depends on several aspects. Your strategy, expertise of the marketing agency, the area, and your desired services influence the cost. But the average cost of digital marketing for a small business is $2500 to $12000.
How long does it take to see results from HVAC digital marketing?
You should be patient with digital marketing. You will notice some differences initially, but to get your expected result, you will have to wait two to three months. But if your website is new and you are new in the business, it may take some more time.
How do I measure the success of my HVAC digital marketing campaigns?
You can measure the success of your HVAC digital marketing campaigns by different metrics such as lead generation, conversion rate, website traffic, ROI, click-through rate, cost per action, etc.
Final Words
Traditional marketing is great and essential for business. But standing in 2023, you cannot go long without HVAC digital marketing services. You need them for lead generation, customer retention, sales increment, and better engagement with your customers.
Check again about the service details and see what services you need. You can generate global awareness for your brand and become one of the top brands in the industry with proper digital marketing services. So make sure you are taking advantage of technology in marketing.